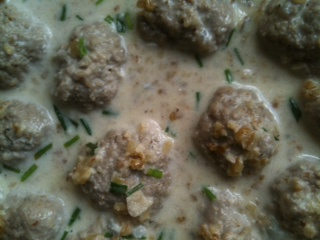 I first had these as a starter at Sable in Chicago.
Please follow the link if you want to take a culinary tour of this great city.
Did I want to include recipes made from veal? As long as it's from the UK where calves are
legally required to have bedding, more space and a better diet than in Europe I don't have an issue with it.
This is a very rich dish but I loved the really soft texture and the marriage of veal and Gorgonzola was pretty spectacular.
If you're one of those pipe cleaners who lives on ademame beans and French water, please go away.
This is not for you. Ever.
For the meatballs
200gr minced veal
2 shallots
1 fat clove of garlic
2 tbs panko breadcrumbs (coarse Japanese)
1 medium egg
1 tbs single cream
2 tbs grated Parmesan
black pepper
1 litre of chicken stock
For the sauce
50 gr walnuts
1 heaped tbs Parmesan
80 ml double cream
25gr Gorgonzola
black pepper
Put all the ingredients (bar the stock) into a food processor and pulse till amalgamated but not pureed. Wet your hands and form little meatballs. Bring the stock to boil, place the meatballs in the pan and lower to simmer for about fifteen minutes.
Meanwhile, crack the walnuts and pound in a pestle and mortar till the nuts are almost powder. Heat the cream in a pan, melt in the cheese, add the nuts, cream and pepper. Cook gently for about five minutes.
Place the meatballs on a serving dish, gently pour over a little sauce on each meatball and stab in a cocktail stick. Pass them round and watch them disappear.