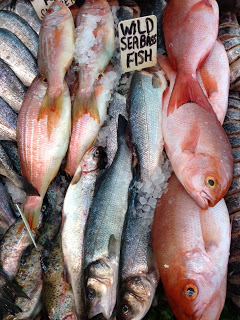 Buy Local and Buy Fresh
In a world that is becoming increasingly domination by supermarket chains we are blessed to still have a traditional "High Street" butcher and two great fishmongers in our neighbourhood.  So, as a lapsed, but still philosophically, a Catholic, it just had to be roast fish on Good Friday.
I always buy my fish as early as possible in the day, that way it's arrived fresh from the market. Although it's more expensive, I find wild sea bass has a far better flavour than the farmed variety; pick the ones with the brightest eyes and healthy gills for total freshness. I always get my fishmonger to behead, eviscerate and descale so it's all ready to cook. That's the beauty of shopping local and small, fantastic personal service.
Place silver foil on the baking tray with enough length to fold back and cover the fish. Make a base of sliced beef or vine tomato, thinly sliced potato cover with a little olive oil, salt and pepper to add flavour. Bake this for around 15 minutes before adding the fish. The tasty base will also stop the fish sticking to the bottom of the tray.
Next, wash the fish and place some spring onion, sliced vine tomato and more flat leaf parsley inside the fish cavity. Baste with the olive oil and herbs inside and outside the fish until all the mix has gone. Loosely fold over the flaps of foil to keep it moist and bake on a low heat for around 15 minutes. Remove from the oven, fold back the foil to expose the fish and add a few cherry tomatoes. Return to the oven on a higher heat for around 5 minutes until the tomato skin begins to burst, remove and serve with a couple of spoons of juices from the tray.
2  Wild Sea Bass
1 Potato sliced
8 Cherry tomatoes
2 Spring onions
Chopped flat leaf parlsey.
Twist of sea salt and black pepper
For the mash:
6 Medium Potatoes
½ Casava, peeled
3 Cloves garlic
More chopped parsley
Butter
Milk
I discovered this recipe by accident; I cook a lot of South American food and had run out of potatoes but had left over cassava, so used it to bulk up the mash. I found the cassava added a lovely creamy texture and a richer, fuller flavour, in fact, it was so delicious it's now a staple dish in our house.
Peel the potatoes and cassava; I've experimented but always find three parts potato to one part cassava is a good ratio. Cut into chunks and place in slightly salted boiling water. Check with fork after around 15 mins and, if ready, drain. Add generous knob of butter a little milk, a twist of sea salt and mash. Fry three crushed garlic cloves until browning and to the mash along with some chopped parsley, mash further, finishing with a whisking motion and shape and serve with a knob of butter melting on top.
I served with steamed buttered spinach and blanched sugar snap peas and a glass of chilled Italian Pinot Grigio. Equally as nice with a Sauvignon Blanc, Chablis or, if you are feeling indulgent, a fine Sancerre.