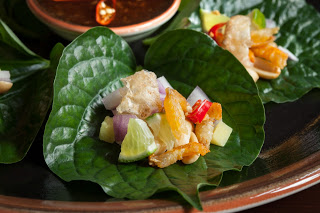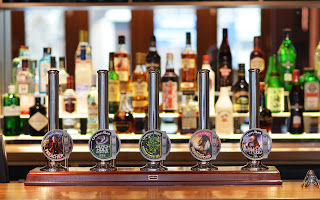 There are great things happening in Kennington. I don't go there for years and then I find myself there twice in the same week. I was a regular down that way a few years ago for Wednesday night football training down the Oval astroturf pitches. In those days there was one half decent pub selling the standard gassy beers and certainly no gastro pubs. Now there is something of a renaissance happening, several new pubs have opened selling food and real beer and the new addition Oaka at the Mansion House, conveniently right opposite the tube, is the best yet.
It's becoming harder for small breweries selling into pub chains demanding ever higher discounts, to make a decent profit so the fabulous Oakham Ales have branched out from just brewing, to opening a few pubs of their own in Peterborough, Birmingham and now Kennington. It's a very simple concept; great ales and beers with pan-Asian Thai based food. You can choose to have bar snacks, known as Gap Glam, or you can have a full meal in the restaurant side of the pub. Decoration is simple, minimal, and uncluttered with the nice touch of a plasma TV showing a live feed from the Kitchen.
Gap Glam is designed to have with beer – Tempura King Prawns £6.90, Chicken Satay £6.90, Seven Spiced Squid £6.90, Soft Shell Crab £6.90, Dragon Scallops £6.90, Baby Back Pork Ribs £9.80 among others or order a mixed Oaka Platter for £16.90, perfect for sharing. A new one for me was Mieng kum £7.90, a platter of small parcels made from sarmentosum leaves, filled with roasted coconut, shallots, lime, chilli, shrimp, ginger, peanuts and topped with a palm sugared sauce. My favourite was the more simple deep fried Crunchy Spiced Aubergines £5.90, but then again I'm biased, it's my most favourite vegetable on the planet.
Main courses include succulent Tamarind Duck £12.80, Japanese Chicken Hot Pot £12.80, aromatic Pad Thai Prawn Noodles £8.90 and my favourite the Weeping Tiger Rib-eyed Beef £16.80, served super rare.
The food was great, cooked to perfection and filling, but the real star of Oaka was the row of ten Oakaham Ales along the bar, carefully arranged in order of strength. My beloved editor didn't quite get this, telling me "it's all about the food". Well you wouldn't eat in a wine bar and not mention the wine, nor should you eat in Oaka without mentioning the fine beers. In my humble opinion beer is something at which the English really do excel. It's a shame it's rarely taken seriously by other food critics because it really should have equal status to wine and richly deserves more coverage. Sadly, I didn't get to try all ten, I'll be back for that, but what I did sample was spectacular.The standout for me was the Black Hole Porter 5.5%, £4.15. A superb big, dark, full flavoured beer, with a slight hint of sweetness. However, it's a little too dark to compliment the food with the flavours  battling for supremacy on my tongue. More suitable to accompany the Gap Clam are JHB 3.8% and Citra 4.2%, a light refreshing beer with a hint of lemon citrus just perfect for the Thai and Pan Asian food on offer. I also sampled Green Devil 6%,  and Dreamcatcher 6.9% an original deep paprika red beer bursting with rich berry flavours without being sweet. Wonderful.
A group of suited and jovial "city boys" I spoke to at the bar were on a mission; slowly, and enthusiastically, working their way through all ten ales from 3.8%-7.5%. These guys were in for the night. The last beer being Attila 7.5%, after a few pints of that I'd probably think I could defeat the Roman Empire too.
Oaka at the Mansion House
48 Kennington Park Road
London
SE11 4RS
020 7582 5599
@oakalondon