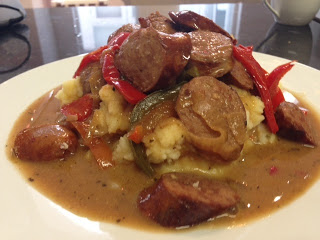 I know, I know, it's  thirty degrees – what the hell am I doing giving you a recipe for a wintry dish? Well, it seems that despite the sweltering weather, people still want to eat a hot dish once a day, or so it would seem in the cafe. We had a few sausages left over from a festival that we had just done, so we used them up in the recipe below. We served this tasty, gravy laden casserole with a dollop of mash – natch.
Serves 4
8 cooked sausages, thinly sliced into discs
1 red pepper, sliced
1 yellow pepper, sliced
1 large onion,sliced
2 fat cloves of garlic, crushed
1 cup of chicken stock
1 glass of red wine
1 tbs paprika
1 tsp thyme leaves
2 tbs sour cream
a little oil for frying
black pepper
Heat the oil in a frying pan and fry the onions till translucent.
Remove and set aside. Fry the peppers until slightly charred and then add the garlic. Thirty seconds later, pour in the stock, wine and add the thyme and paprika. Now put back the onions and the sausages and cook for ten minutes on a simmer.
Take off the heat, stir in the sour cream and a lot of black pepper. Pile some mash onto the middle of a plate, make a dent in the middle and ladle your sausages over.