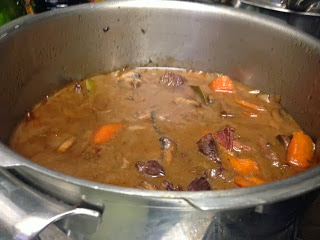 Beouf Bourguignon in a pressure cooker?? I think not I said snottily to my biz partner Zi. Aren't you supposed to take half a day to cook the perfect French stew? On top of the stove, then in the oven for an hour and then out of the bleeding oven to add the last of the veg and then back in… isn't one supposed to be a French sweaty mess before producing this divine dish?
Well, I'm currently having a slice of humble pie as it took precisely twenty minutes to cook once I had all the ingredients in the cooker. And you know what, it's the best Bourguignon I've ever made. You live and learn…
Serves six 'Bunter' portions
1kg stewing beef
2 onions,sliced
12 small white onions (I use shallots if these are not available)
4 fat cloves of garlic, sliced
160gr lardons
12  small portabello mushrooms
6 carrots
6 baby leaks
1/2 litre beef stock
1/2 bottle of Beaujolais
2 bayleaves
4 springs of thyme
2tbs cornflour
black pepper
a little oil for frying
Heat two tbs of oil in a frying pan. Fry the beef in 3 batches so it browns nicely on both sides.
Add the cornflour to the last batch and make sure the beef is well coated. If the beef sticks to the bottom of the pan, add a little more oil and deglaze with a little red wine. Place the beef in the pressure cooker. Wipe the pan clean and add another two tbs of oil. Fry the onions, white onions, mushrooms and lardons for three minutes and add to the beef.
Fry the sliced garlic for thirty seconds in the same pan and add to the beef. Slice the carrots and leeks on the diagonal and place in the cooker with the bay leaves and thyme leaves.pour in the stock and the wine.
Follow the instructions for pressure cooking – it takes twenty minutes for the beef to be ready so in the meantime, pour yourself a very civilised and suitably large glass of Barolo.
Serve this with a buttery mash into which you've added shredded savoy cabbage. Badassical as the youf of today would say.