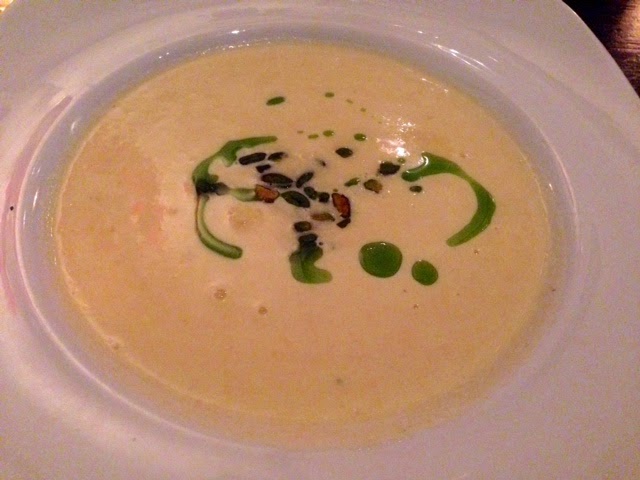 They say that the temperature has to fall to below 15 degrees before soup becomes desirable. Sales in the café certainly reflect this theory; so much so, we don't put soup on the menu in the summer. When autumn is upon us, however, we get reading and hunt out new recipes to tempt our customers.
I had this soup in a local café and liked it very much. Delicate and smooth with a lovely drizzle of peppery watercress sitting in a pool of oil. Looks pretty and tastes great.
TIP You can also drizzle the oil over grilled fish – delicious. It will keep in the fridge for about four days.
serves 6
1 large celeriac, cut into chunks
2 shallots, diced
2 carrots, peeled and diced
1 1/2 litres of chicken stock
1 small glass of dry white wine
2 tbs double cream
1 bag of organic watercress
10 basil leaves
juice and zest of 1 lime
1 clove of garlic, crushed
150ml extra virgin olive oil
pinch of sea salt
Pre-heat the oven to 180oC
Place the celeriac in a roasting tin and brush liberally with oil. Cook for about forty five minutes or until tender and browned.
Meanwhile, in a large pot, fry the onion and carrot in a little oil for five minutes on a gentle heat, add the garlic and cook for a further minute. Pour in the wine, reduce by three quarters and pour in the stock. Let it simmer whilst you make the oil.
Wiz the watercress, basil, oil, lime, zest, sea salt and garlic in a food processor for about a minute. Pour into a screw top jar and set aside. Turn off the stock and wait till the celeriac is cooked.
Add it to the soup and cook for a further five minutes. Stir in the cream, liquidise the soup and pass through a sieve if you want  a really smooth soup. Ladle into bowls and drizzle over the watercress oil.