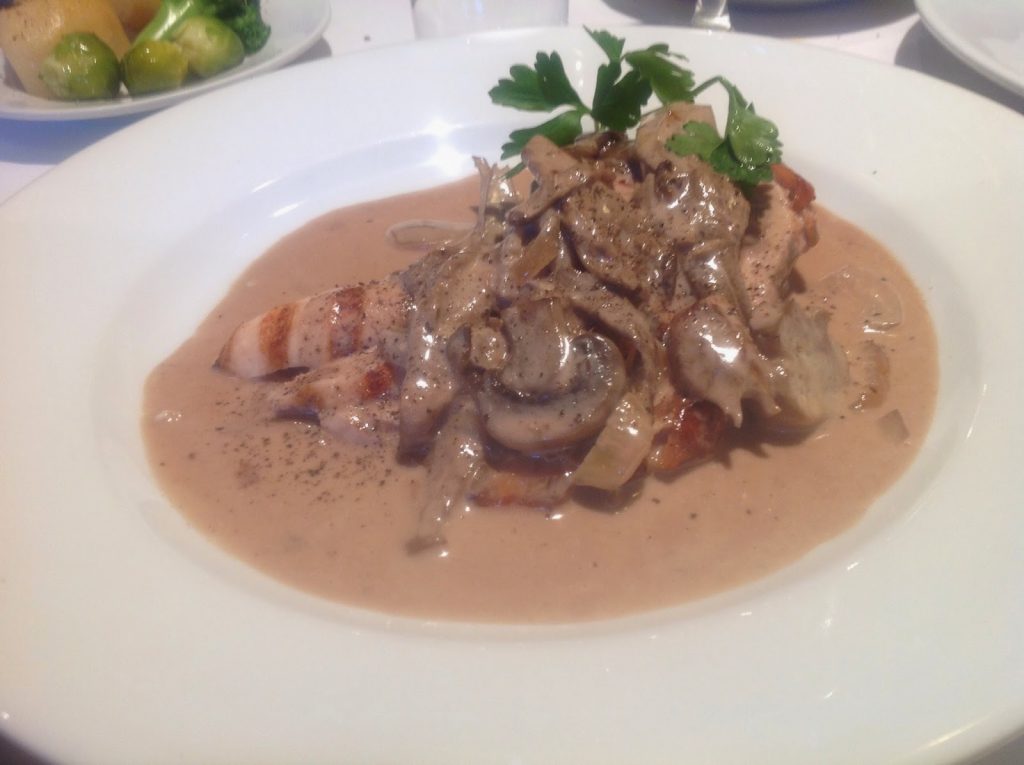 quite delicious mushroom and port sauce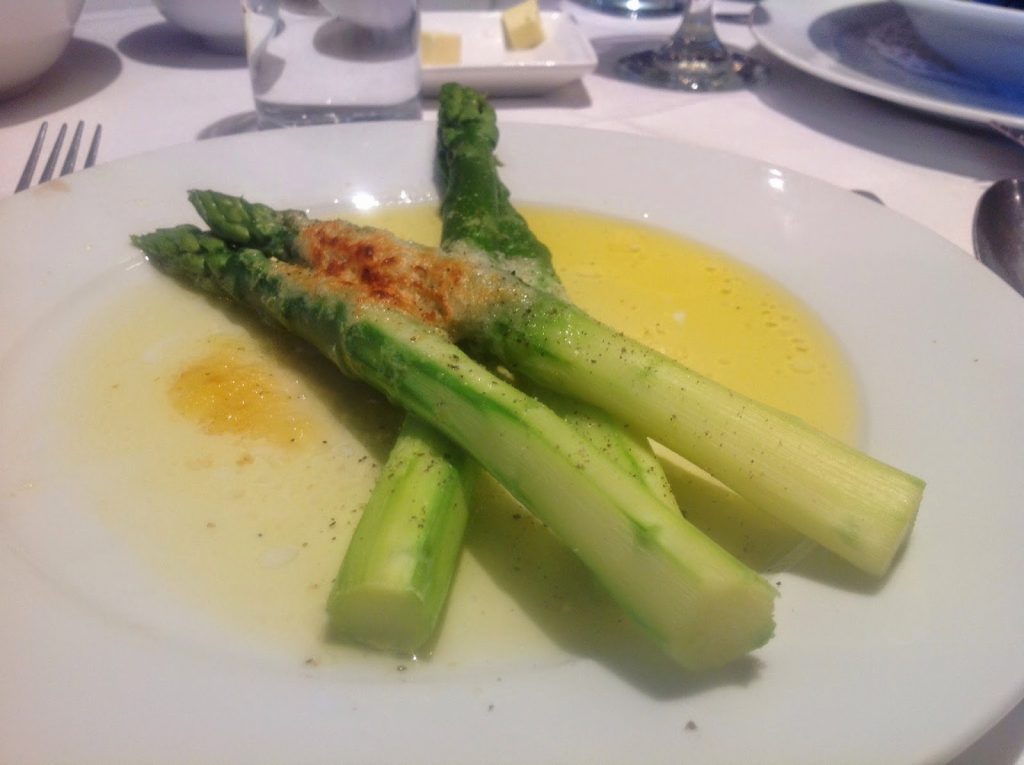 tender asparagus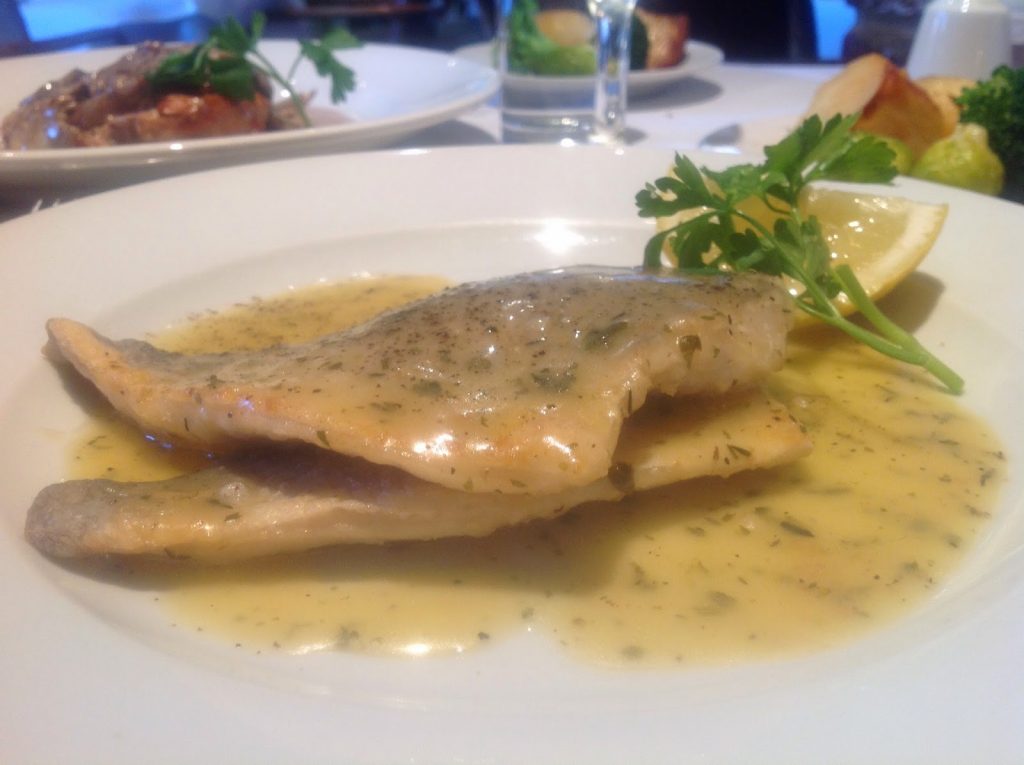 moist sea bream
A wrong turning took me heading towards Harrow rather than Alperton (those of you in the know won't be in the least bit surprised) and by the time I'd travelled a mile or so I hit upon Harrow on the Hill, home to the famous school and its magnificent surroundings.
It's also home to The Old Etonian Restaurant, normally rammed on a Sunday with parents taking their privileged offspring to lunch in this terribly old fashioned dining room; it was  relatively empty however, due to the Christmas break.
Apparently the views from the terrace are spectacular, but this being the middle of winter we were installed in a cosy corner and were duly handed the Sunday lunch menu by our young and enthusiastic waitress.
Two courses for £16.50 seemed pretty reasonable and there was plenty of choice – I was just a tad underwhelmed by the menu, written in French as well as English.
 I know, one would hardly expect a Heston Blumenthal affair blaring out at you in all it's experimental weirdness and I guess tradition is everything in these parts, but at the same time, does one have to stay steeped in safety either?
At any rate, asparagus and moules for starters, the chicken in port, mushrooms and cream and sea bream for mains were ordered, along with a Carte Noir Provencale Rose.
Little touches can really add to a place and I am often rather miffed at how little attention is paid to the quality of the bread, especially when you're handing over a decent sum of money. Sadly It tasted like a cheap baguette in all its nasty wooliness.
The wine arrived and all negative thoughts were duly banished. The beautiful rose hue that is classically Provence in all its delicate lovliness was a truly elegant, dry wine with a long and wonderful finish. The asparagus arrived, served in a pool of butter and some grated parmesan. Despite it not being in its short season, it had a wonderful texture and had just the right amount of bite. The moules were served in a very creamy, rich sauce and a 'French' amount of sliced garlic, something which always pleases me.
The chicken, moist and tender, sat in a most wonderful mushroom and port sauce. The tang of alcohol and the richness of the sauce really made a wonderful marriage.
Now for my second gripe, the veg; I wish I'd taken a photo. A tiny plate arrived with 3 sprouts, two potatoes and a broccoli floret all looking rather sad. They were bland and utterly uninspiring. I just don't get it. I'd just tasted a sauce to die for.
The bream, served in a tangy, citrus sauce would have been lovely with a dollop of mash and some spinach. Bream with sprouts however, just didn't do it for me.
Never having room for a third course sometimes leaves me jealous of fellow diners indulging in wicked looking puddings and I have to say, the good old fashioned trolley groaned with delightful looking  desserts. Looking at the diners who indulged, they seemed to be a very sated bunch indeed.
Here I have to mention that the service was prompt and very professional indeed throughout our meal, always an added bonus.
I don't know whether The Old Etonian takes a look at itself now and again, or whether it gives a hoot, as their customers are on the doorstep, they know their audience and on a Sunday they have two sittings for lunch. Their website is lamentably old and doesn't even have a wine list to look at. Again, do they give a hoot? I expect not.
The Old Etonian
36 – 38 High Street
Harrow
Middlesex
HA1 3LL
0208 422 8482
http://www.oldetonian.com/