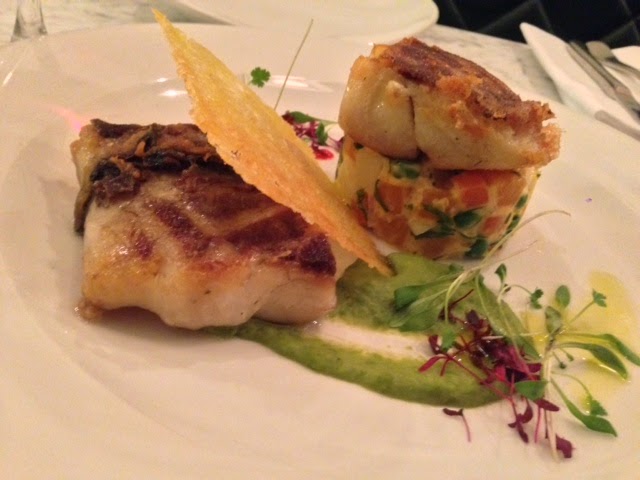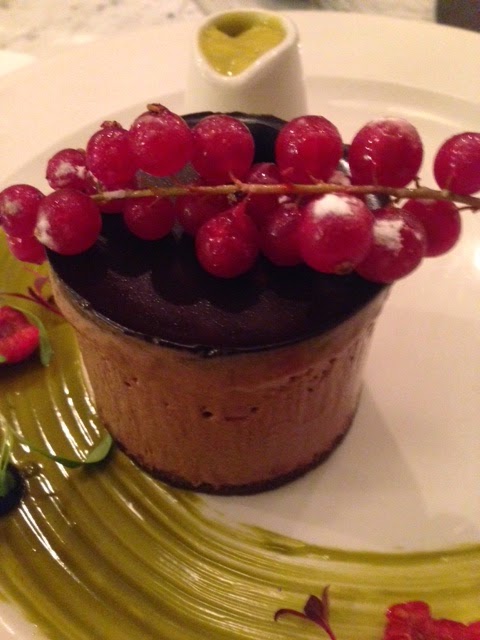 My previous experience of restaurants attached to hotels has not been full of culinary delights, so I approached the invitation to eat at Kensington Quarter with more than a little trepidation rather than the tumescent anticipation that usually accompanies me on the first visit to a new place. Needless to say, I was pleasantly surprised the moment I walked through the door; a modern, light, airy interior with an island bar, lounge area, private dining room and deli began to wipe away my doubts.

This modern yet atmospheric and classy new restaurant has opened at the four star boutique Hotel Indigo, a short walk from Earl's court Station.

KQ follows in the footsteps of Doron and Valeria Zikha's four other eateries around London, which combine stylish yet relaxed surroundings with a clear passion for food and wine. Open all day for breakfast, lunch and dinner, KQ is ideal for a 7am business breakfast, an after work drink or a romantic evening meal. Head Chef Riad Zailuk, in keeping with the Quarter Groups ethos, offers a range of imaginative dishes prepared from organic, seasonal and locally crafted ingredients, with meat and poultry sourced from ethical independent suppliers.

We were ushered into the lounge area and plied with cocktails while our table was prepared. The signature Bourbon based Kensington Infusion, a concoction of Jack Daniels, Crème de Casis, a drop of coffee and London stout was superb and a perfect appetiser to the delights ahead.

Three starters were served up to try, first up was confit of duck, served off the bone and compacted into a cylindrical formation with a poached duck egg on top served on palette shaped welsh black slate. This was my favourite dish of the evening; perfectly cooked and so beautifully presented it was like eating a work of art. Next was oven baked goat's cheese tart with red onion marmalade, beetroot and apple salsa, which was strongly flavoured, sweet and could equally have been served as a dessert. Lastly, a grilled artichoke salad with green beans, celery and parmesan, all fresh and perfect for those who prefer a lighter starter.
The mains were a real treat. The roast sea bass was a dream, massive chunks with crunchy skin topping, perfectly succulent fish served with a Russian salad, lemon oil, and potato galette and pea veloute. A treasure from Neptune's realm; a fish that never disappoints this sometimes jaded palate.

Ubiquitous butternut squash seems to be on every menu in London this winter and the flavour of this creamy risotto was delightful, with lots of peppery rocket and shaved parmesan, two of my favourite ingredients. However, I do prefer my Arborio a little more al dente than it was served, but this is a personal preference rather than a genuine criticism and a few twists of black pepper made this dish perfect. The meat option was a Moroccan style, slow cooked five spiced braised shoulder of mutton with prunes, dates, roasted vegetables, citrus herbs, pomegranate couscous and quinoa mix. A variation of North African lamb cous cous, cooked for three hours which was rich, filling and plentiful.
Different wines were served through the evening to give us a taste of their wine list. The Picpoul de Pinet 2013, Grange des Rocs, Languedoc was crisp, herbal and slightly buttery. A perfect pairing with the luscious duck. The stand out for me was the Sauvignon Blanc 2013, Framingham, Marlborough NZ light, dry with grapefruity elements and a lovely mineral finish, reminiscent of the finest Sancerre. The Rioja and Chianti were a little disappointing and way too tart for my liking. The Pinout Noir was acceptable, but didn't really live up to the extravagant menu description. I opted to revisit the rather fabulous Sauvignon Blanc which tasted even better the second time round.

Desserts were a palate cleansing lemon meringue served with dessert wine. The first tray of glasses was spilled down my back by a rather charming waitress, a little too anxious to impress, but never fear; the replacement glass was a delightful surprise. I must admit to never really being a fan of sweet wines but this one was something else. Monbazillac Jour de Fruit, Domaine l'Ancienne cure was sweet, yet crisp and not at all syrupy like some I have quaffed. Finally a glass of port with a rich but not over sweet Chocholate Delice topped with tarty red currants with an amazing pistachio creme.
Suitably impressed, I've told myself not to be so judgemental next time I'm invited to hotel restaurant. I walked back to the tube totally sated thinking that with some minor tweaking of the wine list this could grow to be a truly remarkable addition to the West London dining scene.

Kensington Quarter