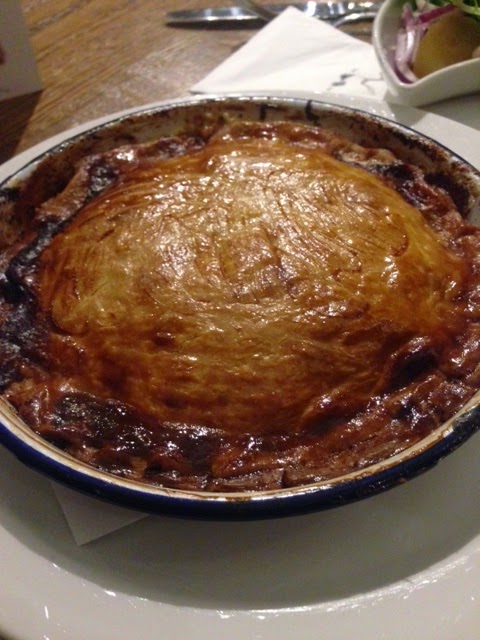 "For too long we haven't celebrated the nature of our own regional produce, what gives it character, what makes it the best. The finest British ingredients are the heart and soul of all the food at all Ribble Valley Inns."
What better way to introduce the The Clog and Billy Cock, a spacious pub in Lancashire and part of the Ribble Valley Inns, which, as a Southerner, I had long wanted to visit with some great pals who live in nearby Mellor.
Having had some shockingly bad experiences of late, I was looking forward to scoffing traditional, no nonsense, 'not a whiff of foam' traditional pub grub using local produce.
The menu sang to me instantly. I had no trouble in making a beeline for the slow cooked potted duck with Cumberland sauce and toasted bread, followed by the sirloin steak, peppercorn sauce and get this, chips fried in dripping. Also ordered was the very interesting sounding smoked haddock scotch egg, curried leek and potato hash, Morecombe bay shrimps, blade mace butter and toasted muffin, a cheese and onion pie and another steak.
The pub was already heaving at six thirty and so service was a little haphazard but very friendly. My incredibly generous portion of duck arrived in a small kilner jar, accompanied with a glossy, sweet and delicious sauce that perfectly complimented the richness of the duck. Knowing that my second course was going to be rich and substantial, I resisted asking for more toast, although I was hellishly tempted.
I had a taste of the Scotch egg, a simply scrumptious mix of flavours, textures and smoked fish heaven.
The shrimps, sweet and meaty sat in a pool of butter that begged to be mopped up by a hunk of bread.
When I cut into the steak, cooked to a rare perfection, it just melted in my mouth and the gorgeous, peppery, glossy sauce that accompanied it was just the icing on the cake. The quality of the meat was simply superb, no two ways about it. If I had a little gripe it would be that the chips were not really to my liking. Limp, a little greasy and lacking that crunch on the outside.
The cheese and onion pie was filled with local cheese, one of which I used to sell – the Lancashire bomb by Andrew Shorrock, a most wonderful cheese that I can only describe as a semi soft, tangy cheddar like cheese that shot a zing into your mouth like no other cheese can do.
Having no room for pudding, I watched with happy nostalgia my friend's son tucking into an authentic jam roly poly with a luscious vanilla ice cream.
Two pints, three glasses of very quaffable wine and some very sated and happy customers were presented with a bill that was just over a hundred pounds; for the quality and sheer originality served with traditional, local ingredients I thought the meal extremely good value for the money.
Whilst I appreciate that rents and overheads are far lower than in London, I can't help thinking that a great deal of thought, a relentless quest for the best ingredients, decently priced wine and a wonderfully relaxed atmosphere all make for a very successful business and a thoroughly splendid experience, one which I have to search far and wide to match in London and its environs.
The Clog and Billycock
Billinge End Road,
Blackburn,
Lancs
BB2 6QB
01254 201163
http://www.theclogandbillycock.com/