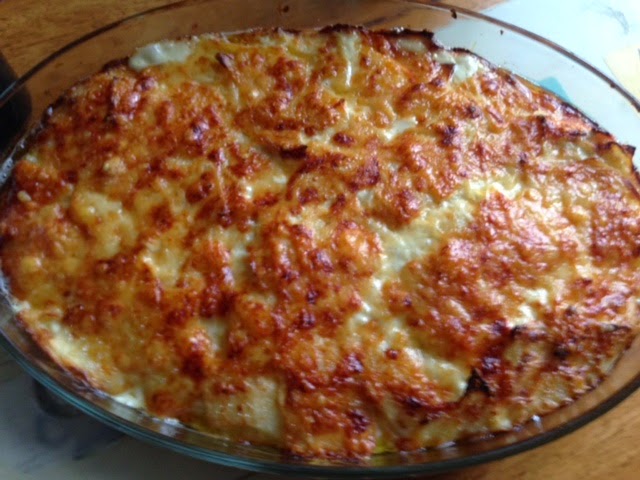 The above, inviting, creamy and quite definitely wicked concoction was served with Easter's roast lamb last Sunday. It's rich, it's indulgent and in this household it's de rigeur to let yourself go and sod the diet once in a while.
Serves 8
600ml milk
600ml double cream
5 cloves of garlic, finely sliced
100gr grated Gruyere cheese
8 large Maris Piper potatoes
sea salt and pepper
Pre-heat the oven to 190oC
Warm 500 ml of milk, 500ml of double cream and 5 cloves of garlic, finely sliced. Season with a little salt and lots of black pepper.
Peel 8 Maris piper or king Edward potatoes. Finely slice them ideally in a food processor or on a mandolin. You can hand slice but they need to be no more than 3mm thick. Add to your cream mixture and cook for 3-5 minutes.
Butter a Pyrex dish and add half the potato mixture to the dish. Finely grate 100g of Gruyere cheese and scatter half over the dish. Pile on the remaining potato and scatter the remaining cheese over the top. Bake for 45 minutes at 190 degrees. Voila!