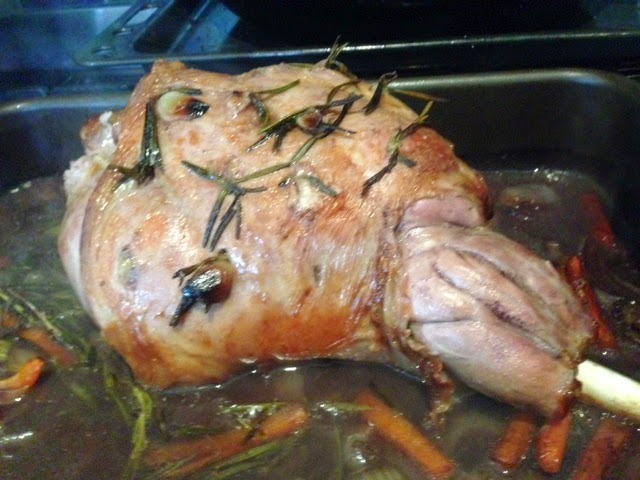 Glorious lamb – studded with garlic and rosemary and served with a red wine gravy and potato dauphinoise.
The added bonus on this occasion being that I wasn't anywhere near the kitchen. it was all in the capable hands of my friend and biz partner Zina.
2 kilos of leg of lamb
handful of rosemary sprigs
salt and pepper
3 fat cloves of garlic, sliced
a little oil for sealing
For the gravy
2 carrots, sliced and cut into batons
1 onion, roughly chopped
2 sticks of celery, roughly chopped
1 very large glass of red wine
1/2 litre of lamb stock
Pre-heat the oven to 190oC
Make slits all over the flesh of the lamb and insert the garlic and rosemary.
Heat a  large frying pan and add a little oil. Sear the lamb on all sides till nicely browned. Season.
Pour the veg in the roasting tin and pour over the wine. Add the stock and place the lamb on top.
Cook for an hour and twenty minutes (for medium rare), basting from time to time.
Let it rest for at least twenty minutes to half an hour. Sieve the gravy into a pan and heat till bubbling. Simmer for five minutes. Serve with home made mint sauce (see recipe), some Barolo and a couple of very good friends.