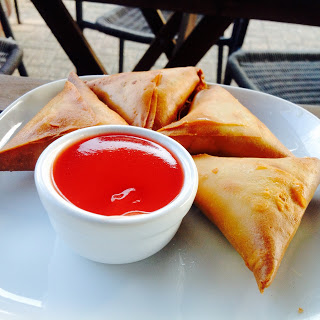 So here's the thing. Having spent the vast majority of May ranting on about over priced, mediocre, snotty restaurants, can I just say what a pleasure it was to set foot in a fairly new Persian eatery last Wednesday in my home town of Harlesden.
Let's get down to the first big fat surprise – it's a BYO joint which frankly was the most welcome news of the week.
In the mood for small plates, as I often am these days, my biz partner and I chose an eclectic range of starters which were brought out promptly by a very congenial waitress.
A handsome looking array of dishes they were too. Crispy chicken samosa like pastries served with a tangy, spicy tomato dip, hummus topped with tiny chunks of succulent lamb, fresh and creamy tzatziki, a beautifully dressed feta and walnut salad and some thin, tasty flatbread for greedy scooping.
Look, it's not fine dining and neither is it terribly complicated. What Arnika does so very well, however, is to deliver spankingly fresh, well presented food that tastes bloody good.
The bill between the two of us came to a whopping seventeen quid. Now that really is a reason to be cheerful…. how nice for me to be whinge free for a change.
Arnika
26 Craven Park Road
NW10 4AB
0203 441 8480