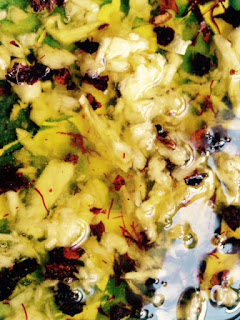 The clever people at The Cool Chile Company sell a wonderful range of dried chillies and I love using the diced chipotle flakes that are full of flavour and don't blow your mouth apart.
This marinade can be used for a number of meat dishes for your BBQ or the oven. It's preposterously easy to put together – I have no idea why people buy commercially bottled marinades which are mostly bloody awful or very expensive. Incidentally, I got the idea for this marinade from the peeps that run Arnika, a lovely and welcoming Persian restaurant in Harlesden.
TIP Please don't substitute saffron for turmeric. You need the real deal here. I like my food spicy but of course you can adjust the amount of chile to suit. You can use fresh chilies if you prefer but I urge you to try the chipotle chile.
Serves 4
Preheat the oven to 200oC
8 chicken thighs
12 tbs of olive oil
a good pinch of saffron threads (about 20)
4 fat cloves of garlic, smashed or crushed
1 heaped tbs of chipotle chile flakes
juice of a lemon
good pinch of Maldon sea salt
Pour the oil into a bowl. Add all the ingredients and whisk together. Spoon the marinade over the chicken which you've placed in a roasting tin. Cover with foil, bake in the oven for half an hour, basting a couple of times. Remove the foil and brown the chicken for a further ten minutes. Serve with lemon wedges and a crisp salad of watercress, rocket, cherry toms and chives. Don't forget the Provence rose and some crusty bread.
coolchile.co.uk