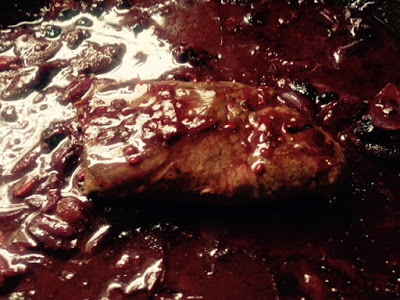 Venison is not something that I eat very often, but this recipe is irresistible. For those of you with dicky hearts, it's much lower in saturated fat and cholesterol than beef and simply pan fried with a sweet, rich sauce it's a doddle to make and looks very handsome indeed. That said, we are talking butter here which makes the sauce a shiny, exquisite, fruity pool of yumminess.
TIP Buy frozen fruits – they are perfectly fine to use in this sauce. Serve with a dollop of creamy mash and some braised fennel or buttery spinach.
Serves 4
4 venison steaks approx 480gr
4 shallots, finely sliced
1 and 1/2 large glasses of red wine
1 cup of beef stock
1 cup of frozen fruits of the forest
2 fat cloves of garlic
6 tbs of olive oil
1 large knob of butter
good pinch of Maldon salt
coarse black pepper
Pour 4 tbs of olive oil into a frying pan and when hot, season the steaks with salt and pepper and fry the steaks for about two and a half minutes on each side (more if you wish to commit murder). Remove from the pan and cover with foil.
Add another 2 tbs of olive oil to the pan, fry the shallot for three minutes on a gentle heat, add the garlic and cook for a further minute. Turn the heat up, pour in the wine and reduce by half.
Add the fruit and the stock, cook for about fifteen minutes on a gentle heat, then whack it up to full for a minute and whisk in the butter before turning off. At this point you can mash the fruit lightly, making sure you don't break the fruit down to a mush. Replace the steaks and the juices that have come to the surface. You can leave the meat in the pan till you are ready to serve. Gently reheat the sauce till bubbling and grind in some more pepper. Serve with three very good friends and a couple of bottles of Barolo.