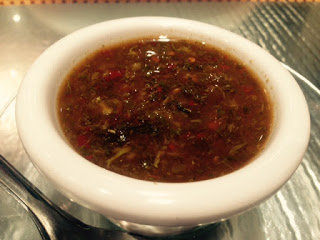 Utterly sublime chili dipping sauce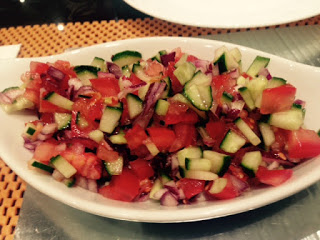 Simple and super fresh Ariana salad
Very moorish naan
Ariana has been lauded with praise by Time Out for a number of years in their best cheap eats category and yesterday I found out why.
Kilburn High Road rents are really very high for an area that is not affluent; I don't know how folk do it, especially when they have a BYO policy.
Before our food arrived I managed to have a chat with Samira, a most charming manageress who informed us that the meat bill alone was a staggering five grand a month – the turnover must be phenomenal!
Anyway, it's Ramadan so this rather pleasant Afgani restaurant was fairly empty, allowing us to enjoy chewing the fat with our hostess before and after the meal.
So here's the thing. Firstly, I find many establishments sloppy with certain elements that aren't hard to get right. People are just mean or arrogant. Terrific bread is everywhere, yet so often one is given a basket of ghastly cotton wool, or as Julia Childs would say, a box of kleenex. Here at Ariana they make their own irresistible and delicious naan.
Dipping sauces, so often commercial gunk, can ruin a dish. I have to say, I was so utterly blown away at the depth and flavour of the coriander and chili sauce that I bought a massive bottle to take home. It was just superb. Dunking the moist chicken into it was sheer pleasure.
The salads were spankingly fresh and the aubergine and tomatoes were eagerly scooped up with a chunk of naan.
The bill for two was eighteen pounds – I have to say that there were a number of very tempting sounding lamb dishes that I was told were superb by our cafe customers who live locally and dine out regularly. I await my next visit with glee in my heart. I can't give a better compliment than that.
Ariana II
241 Kilburn High Road
NW6 7JN
0203 4906 6709
ariana2.uk