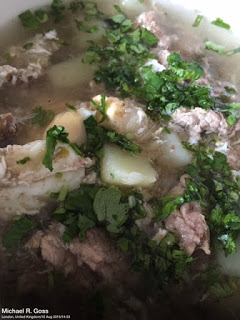 This simple and nutritious dish is eaten all over Colombia. More often than not it is served with rice, as is pretty much every dish in Colombian cuisine; as I like to say 'arroz con todo y todo con arroz'. Rice with everything and everything with rice.
serves 4

2 litres of beef stock
500g cubed stewing beef
2 garlic cloves
3 spring onions
2 medium potatoes peeled and cubed
5 eggs
Chopped coriander
Salt and pepper and/or ground dry chili to taste.

Firstly crush the beef with a tenderising hammer until the meat becomes flat and fibrous. Add to the water with crushed garlic and onions and bring to the boil. Cook for around 20 minutes.

Add potatoes, cook until soft. Beat one egg into the soup then crack in four whole eggs and add chopped coriander. Cook eggs how you prefer hard or soft; personally I prefer a little softness in the yoke.

Ladle into bowls and garnish with more chopped coriander, add salt and pepper or ground dry chili to taste. Alternative versions can include carrot and green chili, but personally I prefer the simplicity. Serve with boiled rice.