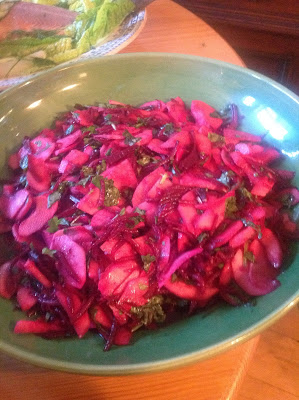 What a colourful and wonderful addition this is to a buffet or as a side salad with your main meal.
For those of you who haven't had the pleasure of eating this splendid vegetable, it's like a cross between a turnip and a radish. A mandolin is the ideal instrument to slice it very finely or if you have excellent knife skills, you will need a very sharp knife indeed.
TIP If you like heat, add some very finely sliced chillies; this salad would also work well with coriander.
Serves 8
1 Kohlrabi
2 medium beets, cooked and peeled
1 Bramley apple
2 shallots, finely diced
handful of flat leaf parsley, finely chopped
snipped chives
8 tbs olive oil
2 tbs lemon juice
Maldon sea salt and black pepper
Peel the tough outer layer of the kohlrabi. Slice in half then use a mandolin to produce very thin shavings. Toss in the lemon juice and set aside. Grate the beets, peel and core the apple, use the mandolin to slice the apple finely and now mix both with the kohlrabi. Pile the salad into a serving dish, pour over the oil, season and give it a thorough mix. Scatter over the shallots and the herbs.