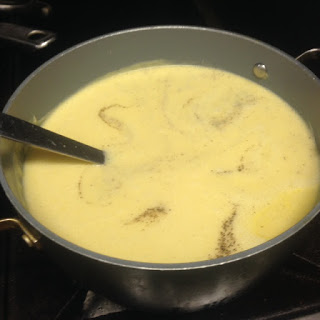 A customer of ours told me that his favourite soup was the above, rather nice sounding combination, one that I had to reproduce. Jolly glad too as it turned out. Smoky heaven, served with a few extra shavings of smoked cheese for that extra depth.
Serves 6 – 8
2 cauliflowers, cut into florets
1 onion, diced
3 sticks of celery, diced
1 large carrot, diced
2 and 1/2 litres of veg or chicken stock
1 large handful of grated smoked cheddar (or a little more if you like a really smoky flavour
4 tbs sour cream
1 tbs olive oil
good grinding of black pepper
Heat the oil in a soup pan. Fry the diced veg for ten minutes on a low heat and then add the stock and the cauliflower. Simmer for twenty minutes, pour in the cream, add all but a small handful of cheese (to be sprinkled on top at the end) and give it all a good stir. Blend in batches, pour into bowls and finish with the remaining cheese and a good grinding of black pepper. Serve with a crusty sourdough baguette.