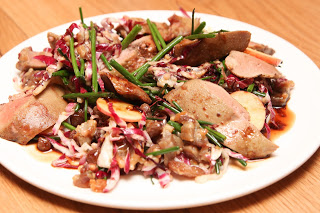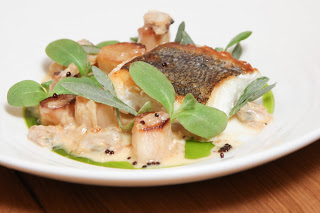 I'd never heard of The Shed before I was invited by a friend who was visiting from overseas; he was passing by the restaurant and thought the menu had seemed really interesting.
A huge fan of small plates myself, I had looked at the website beforehand and was rather impressed at the sheer variety on offer on a small but what I considered to be a beautifully thought out menu.
As it turned out, my companion and I were incredibly fortunate to get a booking for seven o'clock – the place was rammed and someone hadn't turned up so they were able to squeeze us in.
Anyone working in the food industry would be extremely impressed, if not a little green with this scenario.
Before I get down to it, I have to say that the seating wasn't all that comfortable and neither was the distance between tables. This said, the service was incredibly friendly and efficient and we were soon sipping our first, very quaffable bottle of Picpoul.
Our waiter had recommended five plates with a basket of bread to share. There were so many tempting sounding dishes on the menu but after a brief conflab with my pal we plumped for the following:-
Goat's cheese with honey, thyme and hazelnuts/gin cured sea trout/duck livers with radicchio, sweet mustard and chives/fallow deer/ Nutbourne lamb and two baskets of sourdough bread.
The first thing to note is that plates are all really good looking, without exception. A lot of thought has gone into this menu and the attention to detail is second to none.
Let's just get down to it – this is one of the best places I've eaten in all year. Both of us were just incredibly impressed with what was put before us. The meats were cooked to perfection (medium rare), the trout was meltingly soft, the quality of ingredients second to none and the combination of flavours was like a Beethoven symphony conducted by Karajan – harmonious, bold and beautiful.
Everything was first class, including the bread. God I love eating like this. It's exactly what eating out should be about.
I was a guest and so didn't see the bill but a couple of bottles of wine, the five sharing dishes and two lots of bread came to about £120. It's not cheap, nor should it be. There may be one or two Gargantuan Americans who may take umbrage over the portion size, but for me it was the perfect meal. It's been a long time since I said that. Bravo the trio of brothers who own this fine establishment. I'm going to shout about this place from the rooftops.
http://www.theshed-restaurant.com/
122 Palace Gardens Terrace
London, W8 4RT
0207 229 4024