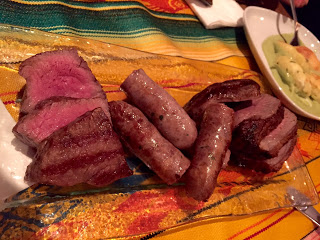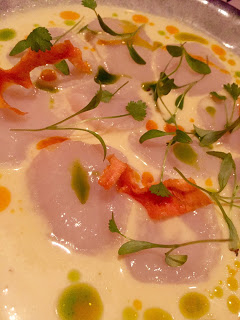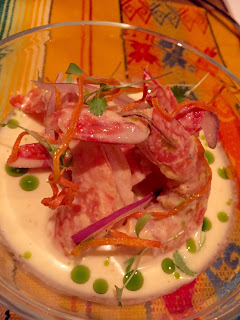 Few things can transport you in space and time; a well crafted novel, a film perhaps or superb food. Entering this cosy new restaurant on the Essex Road in Islington was like stepping into Ecuador itself. Ecuadorian artefacts decorate the walls and tables covered with vibrantly coloured, native indian made cloth along with flickering candles and a low hum of piped salsa give the place a unique and welcoming ambiance that truly conveys you to Latin America.
After 14 years working in some of the best restaurants in London, including The Savoy Grill, Le Boudin Blanc, St. Germain and Gordon Ramsay's The Maze, Chef and owner, Jorge Pacheco opened Inca Plebeyo late in 2015 to showcase food from his native Ecuador and the rest of South America.
After a refreshing ice cold Cusquena, a Peruvian beer, I selected a rather excellent Chilean Tierra Antica 2014, Sauvignon Blanc (£20). This delightful wine has a clear brilliant slightly yellow hue with a clean, fresh nose of citrus and green apple together with a lovely acidity on the palate, perfectly matching the colourful and beautifully presented seafood.
The concept here is small plates for sharing, like Spanish tapas, where you can try and share a great variety of dishes.
First up was a king scallop Ceviche (£8.50). Ceviche is truly the Sashimi of South America, using fresh raw fish, normally sea bass or tuna, with fresh squeezed lime juice and onions. The accompanying sauce was made with lemon juice, celery and Peruvian Aji Amarillo, a mild, yet full flavoured chili pepper. The dish was a complex delight of supremely delicate flavours, each mouthful was slowly savoured and washed down with the perfectly paired Chilean wine. Traditionally, it's often served with dry crackers but here it was served with a dish of Patacones (£3.60) made from crushed and flattened fried plantain.
This was followed Alitas de Pollo (£4.90), a plate of grilled chicken wings seasoned with Peruvian yellow chili. Succulent and spicy, these were rapidly devoured.
Next plate to share was a Parrilla Plebeya £17.90, a mixed meat platter with grilled lamb, beef and pork sausage. The lamb was pink, juicy and succulent and the sausage lightly spiced with chili. This was accompanied by the Papa a la Huancaina (£4.00) sliced potatoes in a spicy sauce and a Quinoa salad containing diced apple and tomato in a sherry vinegar and parsley sauce. I paired this with a rather large glass of the rather good House Chilean Cabernet Sauvignon.
Desserts were Higos con Queso (£4.90) fig with cane sugar syrup and homemade cheese, and Quinua con Leche, quinoa pudding with a scoop of ice-cream. The cheese was delicate, textured and tasty the quinoa pudding smooth and luxuriant.
Ecuadorian cuisine has a very different way of cooking unique to South America. Inca Plebeyo is a highly recommended adventure with a constantly evolving menu and weekly specials such as crab, and braised meat that has been marinated in Chicha, a powerful spirit made from fermented maize. See the website for lunchtime specials and big discounts to those with Tastecard.
The service was certainly excellent. They employ a great team including an Italian waiter and a passionate and knowledgeable French sommelier, who to his horror, I called a wine waiter for which I was politely, and with great humour, and quite deservedly chastised.
At the end of the night chef Jorge Pacheco came to join us sharing a few shots of Cantaclaro Aguardiente a potent spirit made from sugar cane. The conversation and shots flowed deep into the night. A perfect end to a lovely evening. I look forward to going back soon.
El Inca Plebeyo
162 Essex Road
London
N1 8LY
@incaplebeyo