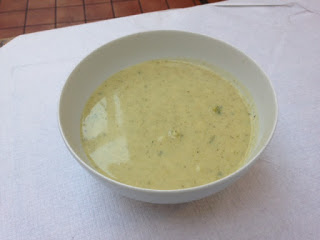 The creaminess of the beans works really well in this comforting soup. It's wizzed up at the end and produces a lovely, soft texture.
Serves 8
2 tins of cannellini beans
1 pack of frozen broccoli (1 kg)
250gr grated mature cheddar
1 onion, diced
3 celery sticks, diced
1 large carrot, diced
2 1/2 litres of vegetable or chicken stock
6 tbs of creme fraiche
2 tbs olive oil
1 tsp of herbes de provence
handful of parsley leaves
black pepper
Heat the oil in a large soup pan. Fry the onion, carrot and celery for five minutes on a medium heat, stirring all the time.
Simply pour in the stock, add the broccoli, drained beans and cook for ten minutes on a high heat. Turn down the gas, spoon in the creme fraiche, add the herbs, and finely chopped parsley. After a minute, stir in the cheese and finish with a good grinding of black pepper. Wizz in a blender and serve with plenty of crusty bread and quality butter.