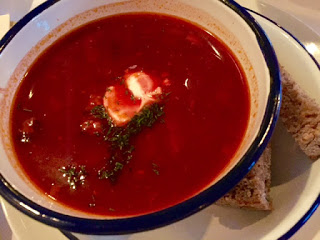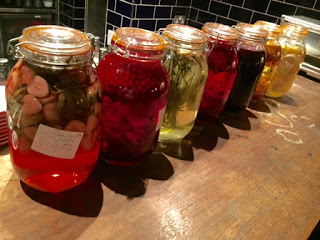 I used to love the blinis and caviar at the now closed Nikita's Restaurant in a basement just off the Fulham Road. For years this was the only Russian restaurant in London, elegantly decked out with red velvet drapes with all the opulent feel of imperial Russia.
Zima Russian Street Food, in the heart of Soho, was opened in March by celebrity Russian chef Alexei Zimin and provides a far more modern experience of Russian cuisine. Something of a star in Russia, where this great hairy beast of a man, prone to bursting into song after a few vodkas, has a restaurant, books, a magazine and his own TV Show.
Zima's background in journalism and food, along with attending an immersive course a La Cordon Bleu, and training with Michel Guerard and Raymond Blanc, led him to return to Moscow to launch Eda magazine and website eda.ru through which he is credited with changing the way Russians eat. In 2010, he opened Ragout, a stylish restaurant combining Russian traditional food with French haute cuisine and later a cookery school of the same name. Zima is his first project outside Russia.
The basement space resembles a Soviet era, ryumochnaya (Vodka Bar) adorned with slogan and symbol embossed propaganda. We were originally scheduled to be on the rooftop terrace, but due to severe summer storms we were welcomed to the more formal ground floor dining area with 10 shots of flavoured vodka. A mural of Alexei Zimin cooking looked down on us from the wall illustrating his ebullient and infectious enthusiasm. Zima import basic vodka from Russia and then infuse in house for two weeks or more with a variety of fruits and botanica. Infusions included bilberrym rich like cassis, light strawberry, fruity sea buckthorn or the more tangy option of cranberry. Though for me the most original and unusual was Horseradish. It felt like a liquid shot of pure wasabi, sinus cleansing, refreshingly bracing yet peculiarly addictive. 25ml shots were all at £3.50 each and were served a plate of nibbles Including wine infused grapes, pickled tomato and gherkin, £6.50.

Next up was a selection of vodka based cocktails, all £9, including my two favourites Sex in Siberia with kiwi liquor, and, the star of the night, Zima Beets; a deep purple beetroot based cocktail made with pear infused vodka, lemon and agave, so good I just had to have another just to make sure. Delicious, yet lethal.

The daily changing Samizdat style menu, presented in a folder, is in English and Russian. Samizdat was format of underground dissident publications in the Soviet Union resembling reproduced typescript, neatly recalling, although probably unintentionally, mirroring roneo printed Soho pornography publications of the 1950s. While perusing the menu I squeezed in a Baltika No 6; a rich, dark full flavoured beer, malty and strong weighing in at a rather muscular 6%.

My teeth were already beginning to float on a rising tsunami of vodka when, thankfully, the starters arrived. A deep bowl of Krasnodar beetroot borscht made with beef stock, celery and topped with sour cream along with rye bread on the side, £5. Absolutely gorgeous, I love beetroot in any form but this eastern European staple never fails to disappoint. Some Zakuski, cold starters, followed including, Russian Olivier salad topped chives luscious sour cream, £6.50.

The main was the Zima signature beef stroganoff with a rich dark creamy sauce, topped with ceps mushrooms and served with crushed new potatoes. Fabulously fresh and tender, with the mushrooms adding an intense nuttiness to the dish. Simple food, well presented in generous portions which will ensure you won't be leaving hungry. Zima specialises in classic regional Russian dishes with his gourmet twist and others mains included, slow cooked lambs tongue, Beef and venison dumplings, traditional fish soup and sturgeon fillets. I would certainly like to go back and sample some of Salmon and Herring dishes too, which all the Baltic countries do so well.
I paired the stroganoff with a glass of house red, a French Merlot/Grenache Blend, Les Vignes de L'Eglise which was decidedly a little "iffy" for my taste, too bitter and acidic; but, let's face it, vodka and beer are what Russians do best and there were some good wines further down the menu which promised more Bacchanalian delights.
Dessert was a traditional Kartoshka cake a hard golf ball of sugar and chocolate capable reviving the most comatose hyperglycemic.
Quite an experience, a little piece of Moscow in the heart of Soho at prices that won't break the bank. One thing I did learn, drinking vodka can lead to hours of horizontality but I live the life loquacious so it's also the perfect catalyst for improved loquacity.
Zima, Russian Street Food
5 Frith Street
Soho
London
W1D 4SD
tel.: 020 7494 9111