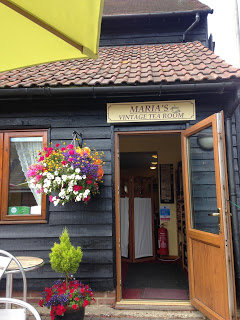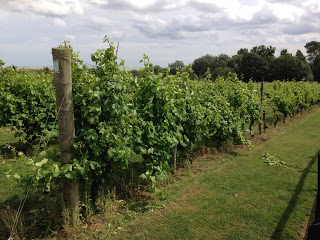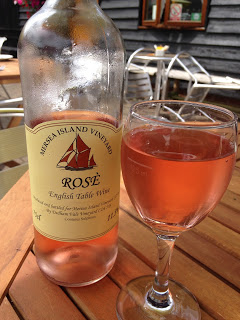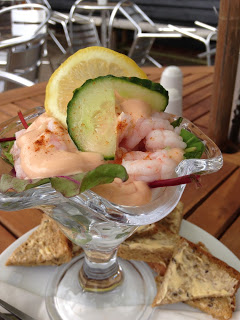 I'd never heard of Mersea Island, which for all of you who are equally in the dark, is just off the Essex coast, not far from Colchester.
A random walk in no particular direction led three of us to the Mersea Island Vineyard, where we decided to stop and have a bite to eat at the tea room.
As an aside, I hear more and more about the quality of English wine, most notably for me, Nutbourne wine in West Sussex was a real find at the rather brilliant 'The Shed', Notting Hill.
So, feeling obliged to research a bottle, we chose a bottle of the Island Blush, (£15) described as a crisp, dry, refreshing wine, full of fruit flavour and typically an 'easy' drinking wine. Put it this way, it was so damn easy we took three bottles away (at the reduced price of £11) to enjoy over the next couple of days.
The simple fare on offer for lunch was pretty typical of any tea room; sandwiches, cakes, panini, baked potatoes and the like. Two of us chose the prawn cocktail from the specials menu and a tuna baguette. It does always irk me that so many establishments can get so many things wrong with food that, let's face it, should be a doddle to produce. Good quality prawns, great bread and Rose Marie sauce are things that anyone can put together with a little thought and care. And put together very nicely they were. Juicy, plump, sweet prawns (a generous portion to boot) were sitting in a shiny pool of lovely sauce, served with good quality bread and butter. The baguette was a joy to bite into and again, a very generous portion of filling made for a very enjoyable snack indeed.
Service was prompt, professional and very pleasant. If you're visiting the island, stop by, grab a bite and enjoy a glass of wine or try one of their award winning real ales in this charming little eatery.
Mersea Island Vineyard
Rewsalls Lane
East Mersea
Essex
CO5 8SX
07970 070399
@merseabrewery
FB https://www.facebook.com/merseabrewery
http://vineyard.merseabrewery.co.uk/wines