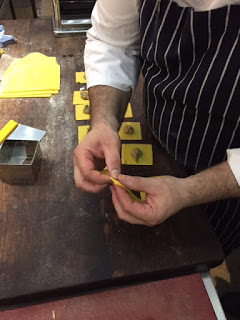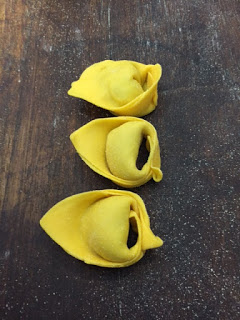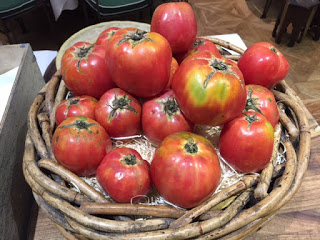 This classy Mayfair restaurant opened in 2011 and, with its elegant opulence, relaxed ambiance and superb chefs quickly garnered a deserved reputation for its excellent food. This Russian owned restaurant, strangely without Russian food, comprises a cocktail bar, and separate spacious Pan Asian and Italian dining areas with a total of over 500 covers along with side rooms for private dining.
When you enter the Italian restaurant you cannot miss the imposing wood-fired oven, wall panelling, mirrors in solid oak frames and the high ceilings hung with rustic chandeliers. Plates of mouth watering fresh fruit, vegetables and iced seafood, adorn the counter in front of the open kitchen. The regular restaurant menu, developed by head chef Marco Torri, offers a variety of regional Italian dishes with a contemporary twist which we are assured is all sourced and imported from Italy; with its chefs, service staff and ingredients all from Italy, it's probably the most "Italian" Italian in London.
As a new venture they are beginning a series of monthly three hour Saturday morning cookery classes. This preview class was led by Baldo Amodio, one of the principle chefs at Novikov, and was assisted by specialist pasta chef Ariel Pregot.
We were all kitted out in our smart monogrammed chef's jackets and aprons, hands thoroughly washed and entered the sacred zone of the professional kitchen, this is where the magic happens.
We began with Sardinian lamb shoulder, as this would be slow cooked for 2 1/2 hours while we learned the other dishes. The joint was placed in a pan with a generous ladle of aromatic veal stock, some crushed garlic cloves, topped with a sprig of rosemary and finished with a few twists of ground sea salt and black pepper before being encased with folded thin clay sheets and placed into the wood fired oven. We each took a turn to prepare our own and placed in the oven to slow cook. Simplicity itself.
The next dish was Sicilian sea bass cooked in a crust of coarse damp sea salt. Baldo gutted the first fish and invited a student to clean the second one, I declined as growing up by the sea I learned a long time ago how to prepare fresh caught fish ready to eat. The salt was slightly moist so it could be molded and compacted around the fish. First step was to form a base, and then the fish is placed on top, a sprig of thyme and slices of white onion and lemon placed in the fish cavity, then the rest of the fish completely encased in the salt to a depth of around 4-5cm making sure no skin is visible. The fish was then cooked in the clay oven for around 30 minutes. The crust ensures the fish remains moist and tender cooked in its own juices.
We then produced a side salad of chopped Italian tomato, capers, olives, basil, olive oil and a little salt; simple ingredients , easy to prepare, yet bursting with flavour.
The easiest dish of the day was the Pizza Margherita, made with pre-prepared dough made with flour and wheat imported from Italy – only the water was English! A generous smear of tomato sauce and some sliced mozzarella and it was ready for the oven and, after just a few minutes, the edges crusted up and it was ready to eat.
The toughest gig was making the tortellini; it took me five attempts before I even got one remotely right. I'm just happy that the pasta chef, Ariel was immensely patient with my endless questions and constant failed attempts. Finally, if not rather clumsily, I produced several that were of acceptable quality, but surrendered and left the rest to the professionals. For the accompanying sauce we sliced some Italian round aubergine, roasted for just 20 mins, scooped out the contents, discarded the skin and then heated with a little salt, added scamorza cheese, some chopped tomato then spooned over the fresh cooked tortellini, finally adding some grated parmesan and basil to serve.
The last dish of the afternoon was the one that took the least time to prepare and cook. The pasta chef the rolled out some pre-prepared pasta dough and demonstrated how to form the small ear shaped orecchiette pasta with his thumbs. I got the hang of this pretty quickly and was a soon a human mini-production line producing a chopping board full of fresh pasta. They were cooked by adding to boiling water for just 2-3 minutes, anchovies were mixed with blanched broccoli and olive oil and spooned on top of the al dente orrecchiette.
Finally we shed our chefs' uniforms and sat down to enjoy the food we had helped to cook. Serving staff bought the food on trolleys and served onto hot plates. A mixed Italian bread basket, all baked in house included some amazing Sardinian crisp bread, reminiscent of Indian poppadoms.
The sommelier's choice of wine for the seafood was a stunning white from Sardinia. The exceptional Argiolas Vermentino di Sardegna, 2015 with a rich creamy depth balanced by a dry citrus minerality gently kissed by the sea. It reminded of the fine Greek wines from Santorini.
The classes are all priced at £75 which includes a light breakfast, the class and a sit down lunch afterwards with wine recommended by their sommelier. It was an absolute pleasure to learn from such masters who really enjoyed sharing their knowledge from one of Europe's premier gastronomic cultures.
The next cookery masterclass will be on 24th September and will based on Piedmont cuisine; dishes will include vitello tonnato, braised beef with barolo sauce, baked pear and mascarpone. Further classes will be listed on their website.
Novikov Restaurant and Bar
50a Berkeley Street
Mayfair
London
W1J 8HA
@NovikovLondon