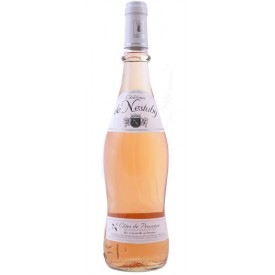 My love affair with Provence Rose started with Mirabeau, a splendid and now award winning wine which one can purchase in Waitrose.
You can always spot a wine from this glorious region by its pale hue and I came across this lovely drop in West 36, a rather smart establishment in Notting Hill.
Chateau Nestuby is a family owned property; four generations have been involved in wine making and it's named after a pure fresh water spring that is on the estate. The vines are tended without the use of chemical fertilisers or pesticides as the family want to create a natural bio diverse estate.
The tasting notes that accompany this wine from the importers Amathus (£10.95 or £9.50 for a case of 12) talk about it having 'a complex redcurrant, sour plum and cranberry nose, elegant strawberry and raspberry nose.' I'm no wine expert but I am, shall we say, a regular consumer and I've had a number of roses from Provence. For the money I think it's a no brainer. I sipped this with a scallop ceviche. A more appealing pairing would be hard to find.
http://www.nestuby.com/
Available in the UK from:
Amathus
Units 21-22 Avonbridge Trading Estate,
Atlantic Road,
Avonmouth,
Bristol,
BS11 9QD
0117 938 2989
http://www.amathusdrinks.com/
@AmathusDrinks
https://www.facebook.com/amathusdrinks/?ref=ts