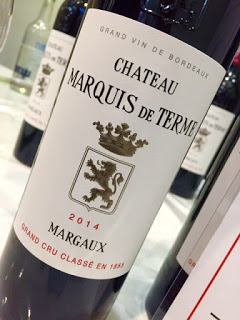 My vertical learning curve in my sommelier studies bought me a prestigious invitation to the Union des Grands Crus de Bordeaux tasting, the second highest classification after Premier Cru. Most of the wines at this tasting are already a couple of years old, many may not be at their premium until around five years or more. Grand Crus are given that honour with good reason; wines are submitted every year to a panel who then give the chateau their seal of approval and allow the classification to appear on their label.
Sometimes when tasting a young Bordeaux one can tell, with a combination of instinct and experience if, how and when a wine will develop further. The nascent qualities of fruit, structure and complexity will already be present, improving as the wine ages. It is rare then, with such a relatively young wine, to discover that this beauty is already well on the way to greatness.
The fame of Marquis de Terme dates back to Thomas Jefferson. Before being elected US president, Jefferson visited Bordeaux in 1787 and listed them as one of the best 16 wines he had ever tasted. The chateau was also included among the 10 great growths of the 1855 classification.
The grapes are hand picked and meticulously hand sorted so only the best are used. Like most wines from Bordeaux it is blended: the cepage being 60% Cabernet Sauvignon, 35% Merlot, and finally 5% Petit Verdot to add flavour and structure. Appealingly dark garnet in the glass, I detected a rich fruity nose with strong notes of dark fruits including ripe black plum and dark black cherry. On tasting, this wine really sings, mellifluous like the song of birds hopping around the ripening vines of late summer; lush and smooth, yet bright, with fruit forward. It has relatively low acidity for such a young wine and the whole experience is capped by a smooth luxuriant finish. A wine you can truly lose yourself in.
Already harmonious well developed it's good enough to be drunk now; left to develop this stunning wine will be an absolute belter in as little as five years.
Chateau Marquis de Terme is best served with all types of classic red meat and game dishes, from boeuf bourgignon to duck a l'orange.
Worth buying as an investment, or to enjoy now, you can buy this delectable red nectar of Bacchus for around €30 from main French supermarkets Intermarche and Auchan.
Available in the U.K. for around £30 from: