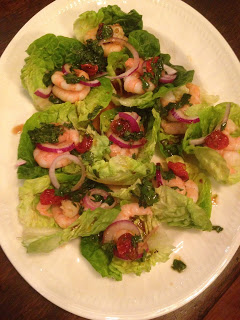 I served these at a canape party where people inelegantly grabbed a lettuce leaf and opened wide. They can of course be served as a first course and make a refreshing change from the usual prawn dishes that are a little stale, in my opinion.
TIP I used Sainsbury's taste the difference jumbo cooked prawns. Jolly good they were too. Adjust the heat according to taste.
Serves 4 as a starter
225gr pack king prawns
2 little gem lettuces
1/2 red onion, very finely sliced
12 cherry tomatoes
splash of balsamic vinegar
2 tbs of olive oil
Maldon sea salt
Thai vinaigrette
4 tbs of Kikkoman's soy sauce
1 tbs of fish sauce
juice of 2 limes
2 cloves of garlic, crushed
1 tbs of rice vinegar
1/2 tsp caster sugar
handful of coriander leaves, very finely chopped
1 medium red chilli, finely chopped
Pre-heat the oven to 160oC
Halve the tomatoes, place on a baking sheet lined with foil, sprinkle over the balsamic vinegar, oil and sea salt. Bake for forty five minutes.
Meanwhile, wash the lettuce, separate the leaves and pat dry. Set aside in the fridge until ready to serve.
Place all the vinaigrette ingredients into a screw top jar and let the flavours mingle.
When ready to serve, place two lettuce leaves onto each plate, divide the prawns, top with three roasted cherry tomatoes, a few sliced onions and drizzle over the highly scented vinaigrette.
I'd serve the 'taste the difference' Gruner Veltliner (£8) with this dish.