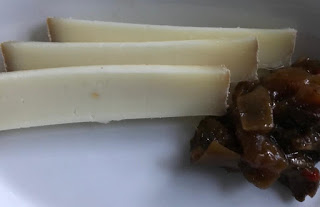 I'd never come across this ewe's milk cheese (and God knows how to pronounce it) but I am rather glad that I gave it a go.
It's a semi-hard Basque cheese that has a slightly sweet, nutty flavour and the texture is really silky. I paired it with a spicy tomato chutney and a punchy Pinot Noir.
As part of a cheese board I would have Camembert, Ossau Iraty, extra mature Cheddar and a Crotin de Chevre, to which I would add three chums who come armed with wine and good cheer.