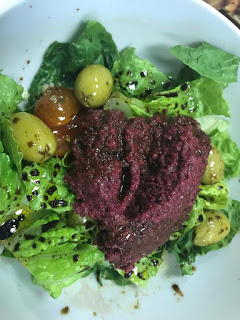 Beetroot is a marvellous vegetable. You can eat spice it up with chili, make chunky or clear soup with dumplings, (a la polonaise) grate it and eat it hot with just the addition of a little salt and lemon juice.
This is a lovely dip and I also like to place a tbs on top of a green salad with olives.
TIP Serve with hot flatbreads. If you have previously placed it in the fridge, make sure you take it out ten minutes before serving.
Serves 8 as a dip
1 can of chickpeas, drained.
2 large cooked beetroots
2 tbs tahini
1 fat clove of garlic, crushed
1 tsp hot horseradish sauce
1 tbs lemon juice
1/2 banana shallot, diced
6 tbs of cold pressed rapeseed oil
good pinch of sea salt
Simply place everything into a processor and blend till smooth. It will keep in the fridge for at least a week.