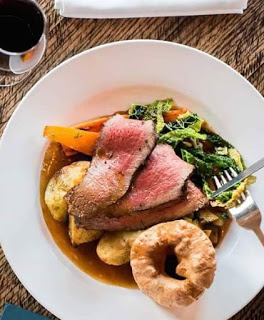 Over the past couple of years Harlesden's gastronomic scene has been pretty grim; it seems that with the hike in property prices, the suits came in to buy up property for the sole reason of sitting on it and doing sweet Fanny Adams for the local community.
When the Oak had a very expensive face lift, they got just about everything wrong. Beautiful setting aside, it had to close temporarily and they did the only intelligent thing they could – they bothered to ask the locals their opinion. Not exactly rocket science is it? Talk to your punters, encourage criticism, engage in their lives and their needs and wants.
Riley, the latest manager, has come in like a whirling dervish and has managed to turn The Oak around precisely because he's interested in the local community and is open to suggestions and listens earnestly to people's gripes.
I'd been in for a few snacks recently, but for me the real test is a Sunday roast. It's much harder than you think to bring everything together at the same time, to serve the beef to one's liking, to produce crunchy potatoes, well cooked vegetables that are just a little over al dente and finally, to bring everything together with a lush gravy.
On this occasion it was Mother's Day so the pub filled up quickly downstairs and was at full capacity upstairs. An unenviable scenario for the staff who were working flat out by about 1pm.
Here I have to say that the crew were professional and completely unfazed by the hordes. They smiled throughout service, were totally obliging re my extra requests. and of course great service always enhances the dining experience. The atmosphere was jolly and there was a lovely buzz in the air.
My companion fancied the chicken and mushroom pie with mash and greens (£11.80) and the devoted carnivore in me went for the beef (£14.50) and to accompany it, a large glass of Malbec (£8.70).
What can I say? The cynic in me was thoroughly silenced on this occasion. Both dishes were scoffed with the greatest enthusiasm, my beef was tender and rare, the veg spot on and the bucket of extra, excellent gravy that I asked for was a splendid finishing touch.
The pie's pastry was light and flaky, the contents moist, tender and beautifully seasoned.
If I have a gripe, and it's a big one, I really do object to paying £8.70 for a large glass of very average Malbec.
Onto the dessert. Rhubarb and apple crumble (£5.60) turned out to be another unexpected delight. So often I find the fruit too sweet but the pie had a lovely sour note to it and a buttery crumble was just delicious.
I have to say this is probably the biggest transformation of a restaurant I've experienced in a long, long time. Bravo Riley and gang.
Just get a decent house white and red that gives value for money and you'll have a very happy and loyal, local crowd who will be more than happy to dip into their pockets on a regular basis.