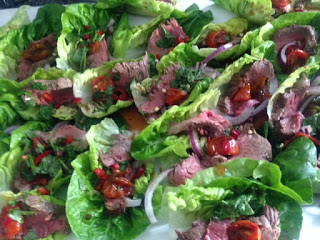 This recipe is quite dear to me as it was my first published recipe in Olive Magazine.
I had originally written it as a starter but I recently served the beef in canape form and they were gobbled up within seconds.
TIP You can make the sauce the day before, as you can the roasted cherry tomatoes. The beef can be made on the same day, a few hours ahead of serving.
Don't use a cheap soy sauce. Kikkoman's every time.
Serves 8
300gr fillet steak in one piece
16 cos lettuce leaves
1/2 red onion
16 roasted cherry tomatoes (see recipe within the label edible gifts)
6 tbs Kikkoman's soy sauce
Juice of 2 limes
1 tbs rice wine vinegar
2 tbs fish sauce
Large handful of coriander leaves, very finely chopped
1/2tsp of caster sugar
1/2 tsp grated ginger
2 medium red chillies. finely sliced
10 pepper corns
2tbs rapeseed oil
A large serving platter
Pre-heat the oven to 190oC
Smash the pepper corns in a mortar and pestle. Place the steak in a bowl and pour over the fish sauce. Press on the pounded pepper and let that sit for half an hour
Meanwhile, make the roasted cherry tomatoes, slice the red onion very thinly, wash and pat dry the salad leaves. Place the soy sauce, lime, vinegar, coriander, sugar, ginger and chillies into a screw top jar. Shake vigorously and set aside. Before you pour over the sauce, check for taste and if it's too salty for you, add a few tbs of water.
Heat the oil in a medium frying pan. Sear the beef on all sides till nicely browned. Loosely pack the steak in a foil packet and cook for 8 minutes in the oven. Remove and let it rest till you can collect all the lovely juices and add them to the sauce. Slice the beef thinly – you should easily get 16 slithers for the salad leaves.
Assemble the canapes by placing a piece of beef in each leaf, topping with a tbs of sauce, a cherry tomato and finally 2 slices of red onion. If you're afraid of spillage, you can spear the lettuce with a tooth pick but frankly, gobs will be opened wide enough to devour these fantastic morsels in one fell swoop.