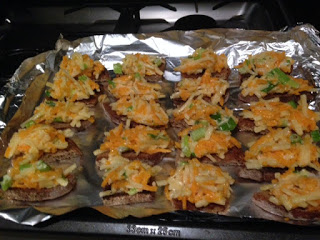 These attractive little morsels or posh cheese on toast are great for a drinks party. They can be prepared well in advance of your guests arriving and popped under the grill for a couple of minutes before serving. Good for soaking up the alcohol and cost very little to boot.
Serves 16 as part of a canape bash (2 each)
4 large slices of your favourite bread (I use sourdough)
200gr each of grated mature cheddar, red leicester and gruyere
6 spring onions
2 tbs of mayonnaise
black pepper
Toast the bread and then cut each slice into eight bite size pieces.
Place the cheeses, onion and mayonnaise into a bowl and mix thoroughly. Pile onto the bread and place on a large tray lined with foil. Put aside until needed.
Heat the grill and pop the toasts under for about two minutes, or until bubbling and lightly browned. Finish with a good grinding of black pepper and watch them disappear.