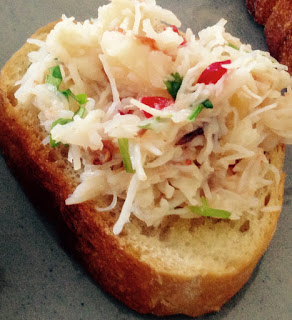 My sister Babs made these at her son's birthday 40th bash and they were scoffed within seconds. They are the perfect summer canape; fresh, delicate and very easy to put together. They aren't cheap, especially as they're made from just the white meat. You can, however, spread the cost and use a combination of both brown and white crab meat.
TIP To make them go further, slice each round into half again. If you don't have a local fishmonger, buy your crab meat from Sainsbury's taste the difference range.
serves 10 as part of a canape menu
200gr white crab meat
juice and zest of 1 lime
1 medium red chili
2 tbs of coriander leaves
1/2 sourdough baguette (or ten rounds)
olive oil for brushing
Pre-heat the oven to 180oC
Slice the baguette into thin rounds. Brush well with olive oil and pop into the oven for ten minutes on a baking tray.
Meanwhile, finely dice the chili, shred the coriander and then fold into the crab meat. Mix in the lime and zest gently and let this sit for ten minutes. Pile onto the bread and serve on a round platter. Divine.