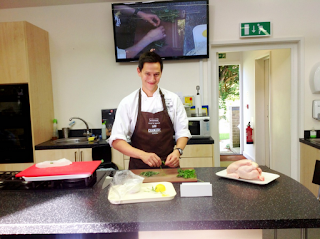 Our charming chef Peter Lien
Keen foodies huddle up. If there is one course you go on this year, hot foot it to Denman college for what I can only describe as the essential guide to knife skills.
Every topic was covered comprehensively by our charming teacher, Peter Lien  in the very modern kitchens of the WI in Abingdon.
If you think about it, you use a knife just about every time you cook. Yet aside from the marketing in the food magazines that we eagerly and ignorantly ingest, most of us who have had no formal training are largely in the dark. How many of the following questions can you answer unequivocally?
What knives are essential?
What do you look for when choosing a knife?
What brands are the best?
How do you hold a knife?
What technique do you use to chop, dice etc?
How do you sharpen a knife?
How do you look after a knife?
How do you store a knife?
How do you fillet a fish?
How do you joint a chicken?
How do you 'julienne' vegetables?
How do you make a balontine of chicken?
How do you easily peel fruit?
In just a day you'll be able to answer all of the above. It's a hands on course so after every demonstration we went to our stations and filleted a sea bass, julienned and diced vegetables, jointed a chicken, made a balontine of chicken stuffed with ricotta and herbs and made a fruit salad.
Comprehensive, thoroughly enjoyable and for me a 'must' do experience which ultimately will serve to truly enhance the pleaure of cooking for your loved ones.
Click on the link below for a list of cookery classes at Denman college.
http://www.denman.org.uk/