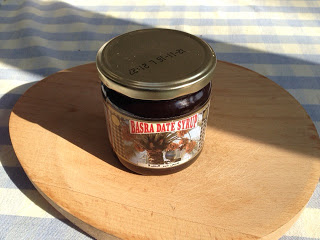 Gooey, sticky, shiny, sweet ribs, cutlery forbidden. This is strictly to be tucked into with greedy hands and sauce all over your face.
My friend Kate gave me a jar of this date conserve and my mind raced ahead to using it in a marinade for ribs.
I've oven roasted these as it's certainly not BBQ weather.
TIP Get a rack of ribs from your butcher. Don't buy the individually cut ribs. Waste of time.
If you're unlucky enough to live in an area that isn't full of exotic ethnic shops, feel free to use honey instead
Serves 2 greedy gits
1 rack of pork spare ribs
2 tbs of date conserve
6 tbs of soy sauce (kikkomans of course – nothing else will do)
6 tbs tomato ketchup
1 inch of ginger, grated
4 cloves of garlic, crushed
1 star anise, ground
Preheat the oven to 140oC
Marinade the ribs overnight. In a a large roasting pan, put a glass of water in it and then the ribs on top.
Cover with foil. Bake for an hour. Turn the ribs over. Add a little more water to the pan if they are sticking. Recover and cook for another forty five minutes. The aroma when they come out is just ambrosial.