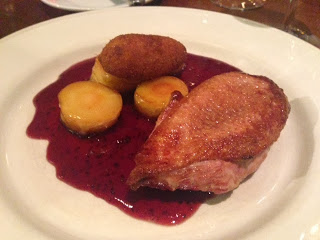 Roast Duck Breast
Just off West End Lane in West Hampstead there's an Italian, family run restaurant that offers a set menu for £10.90 if you dine with them before seven thirty. That's already a very attractive proposition, but when you realise that the choices from the menu include duck breast and calves liver, I doubt you could find these dishes anywhere cheaper in NW London.
A friend whose birthday we were celebrating had been several times to Osteria and so based on her recommendation we rocked up on a Friday night at seven. It's a charming little place that couldn't have had a better start – a bottle of Falanghina IGP Beneventana De Falca, about which I wrote on a previous blog (£20).
The menu had something for everyone and many of the dishes sounded rather tempting indeed. Roast duck breast, duck leg croquette served with a forest fruit and port sauce and the calves liver with shallots, mash and Marsala sauce was a no brainer for me.
I started with the deep fried Camembert and my dining companions the baked goat's cheese with a balsamic reduction and wild mushrooms sauted with garlic, herbs, poached egg and rocket. The portion of goat's cheese was very generous but could have done with an equally generous reduction to cut into the richness of the cheese.
The mushrooms were liked by all. As we were to discover, the chef on board knows how to produce a great sauce, a real art that makes or breaks a dish. I have to say I lost out on the starter.
The Camembert was packed in a hard crumb base that tasted almost fake and the gooseberry preserve was just too gloopy for my taste.
However, when the calves liver arrived it was nestled in a pool of liquid bliss that looked like velvet draped over the buttery mash.
The liver was a little over cooked for me but the sauce was truly stunning. The duck was similarly accompanied by a beautiful, shiny, tart sauce that thoroughly complimented the meat. Reactions were similar to the gnocchi which were served with wild mushrooms, Gorgonzola and rocket. Terribly rich and utterly gorgeous.
It's unusual to feel such highs and lows in one place – the wine was superb and the sauces enviably wonderful. Most of the dishes were thoroughly enjoyed – I think if I'd skipped the Camembert and my liver had been as pink as I was expecting it to be I would have been singing their praises. Consistency is the most important factor in the restaurant game – however, it's not going to stop me giving it another go. Can't say fairer than that.
182 Broadhurst Gardens  London NW6 3AY
020 7372 8188
@osteria spiga