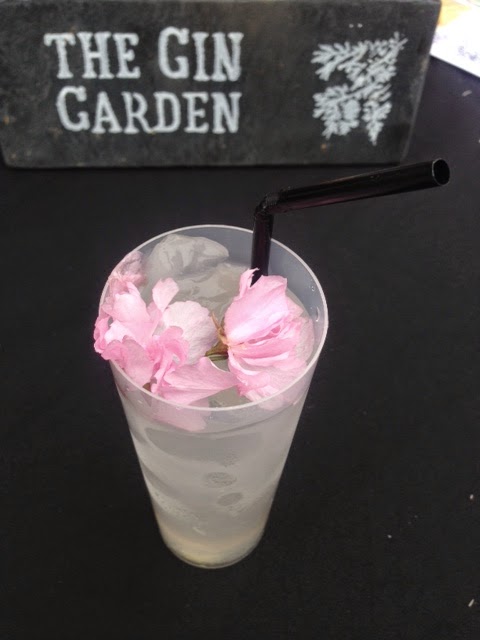 A beautiful early summer day was the perfect excuse for a minding bellies field trip to investigate the just launched Wild Food Market, at Brook Green, W14. But, more about that in a future blog, the main reason for the visit was to sample the delectable aromatic delights of West London based The Gin Garden.
There was a time when Gin, popularised during the accession of William of Orange, was the drink of the poor reaching almost epidemic proportions in the mid-18th century. Unregulated production gave birth to the gin craze that gave it one of its many nicknames "mother's ruin". At one time a quarter of the residences in the parish of St. Giles, around what is now Clerkenwell, were gin shops and the area rife with prostitution and petty crime. Strange then, that in modern times, Gin is seen as a drink of sophistication satiating the refined tastes of the middle classes.
The Gin Garden, founded by Jo Farish, is a simple concept; a pop-up gin bar serving the most exotic gin cocktails anywhere in London. You will find them popping up in unexpected spaces, mixing, serving, teaching and talking passionately about drinks. They work with local distilleries, complementing the botanicals of their unique gins with local herbs, fruits and flowers.
I do nothing if not take my food journalism seriously and, in the interests of serious research, imbibed three of their more creative libations on offer.
We began with a Breakfast Martini, made with pink grapefruit, orange bitters and pink peppercorn aromatic water, garnished with a grapefruit twist with a vanilla-salt rim. I found it delicately sweet and fruity with a peppery bite at the back of the mouth. Lovely!
Then came the Lavender and Rose. Comprising of home-made lavender syrup, lemon juice, rose damascena aromatic water topped with sparkling water and garnished with lavender and rose petals. The smoothest and most floral of the three, perfect for a hot summers day.
The last, and by far my favourite, was the Rhubarb and Geranium, partly because it reminded me of my mother's fabulous homemade garden grown rhubarb crumble and comforting and poignant odours of childhood. The Rhubarb was infused in gin for 24 hours then enhanced with a home-made vanilla syrup and geranium aromatic water and garnished with a cherry blossom. The infusion gave it a distinct tangy tartness yet with the soft, subtle sweet flavours of vanilla. A perfect combination to my jaded taste buds; immensely and irresistibly moreish!
Jo's concoctions are insidiously seductive and quite lethal, hitting you like a velvet sledgehammer leaving us somewhat tipsy at silly o'clock on a Saturday. There is little Jo doesn't know about Gin and it's always an absolute pleasure to listen to her talk passionately and knowledgeable about all things gin.
Do seek out the Gin Garden. They can be found at street fairs, food markets, or be hired for promotions, weddings, corporate events. They'll turn up with a beautifully presented and decorated stand and provide an efficient enthusiastic production line of fabulous exotic creations. Near the end of May they will be popping up in Clerkenwell along with a fascinating historical tour of the former sites of the old gin craze. Check their website for further details and to see where they are popping up next. More please!
@gingarden
07590 567370