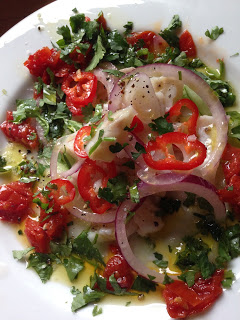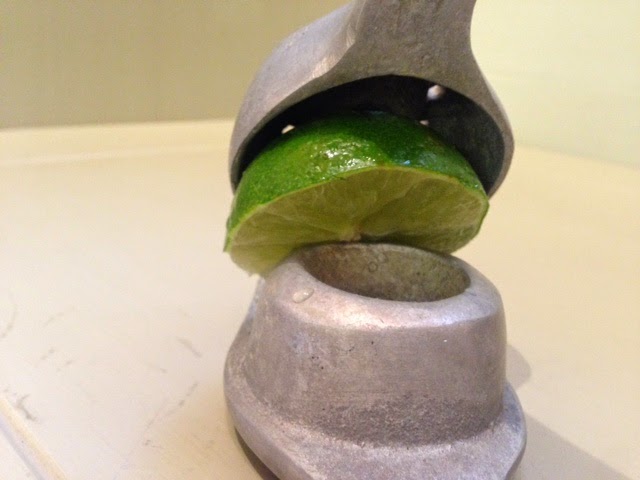 This most wonderful of citrus fruits features heavily in the café , whether to make fresh limeade or as a fantastic flavour enhancer to our Far Eastern dishes.
Here are three of my favourite ways of using lime in cooking:-
Ceviche
Sea bass for me is king when preparing this lime 'cooked' dish, but you can use whatever white fish that takes your fancy.
Serves 4
2 bass fillets, skinned
juice of two limes
1/2 a red onion, finely sliced
8 cherry tomatoes, finely diced
1/2 a cucumber, sliced into thin ribbons
1 medium red chili, finely sliced
8 tbs of extra virgin olive oil
small handful of coriander leaves, finely chopped
Maldon sea salt
Cut the bass fillets into small pieces and arrange on a plate. Scatter over the onion and chilli and pour over the lime juice. Refrigerate for an hour. Take the bass out of the fridge, discard the lime juice and bring to room temperature.  Arrange the cucumber on 4 plates, then build your ceviche by placing the bass in the middle of the plates inside the cucumber, top with the red onion and chilli, scatter the tomatoes around the plate and sprinkle over the coriander leaves. Drizzle over the olive oil and finish with a good pinch of the sea salt.
Mascarpone and lime cream
A dream topping for strawberries or a chocolate tart, this rich concoction is whipped up in minutes and can be kept overnight in the fridge. Serves 4
4 tbs mascarpone cheese
4 tbs double cream
juice and zest of 1 lime
2 tbs runny honey
Simply place everything into a bowl and whisk to soft peaks.
Lime, chili and ginger butter
You can prepare the butter and then carefully fill an ice tray and freeze. Once frozen, turn out the cubes place them in a plastic bag and keep them in the freezer.
1/2 a pack of very good quality butter
juice of a lime
zest of 1/2 a lime
1 medium chili, very finely chopped
1/2 piece of ginger, grated
pinch of Maldon sea salt.
Simply mash everything together with a fork and continue as above. I love taking a couple of cubes and placing them in a fish foil parcel to melt in the oven with a few of my favourite herbs.