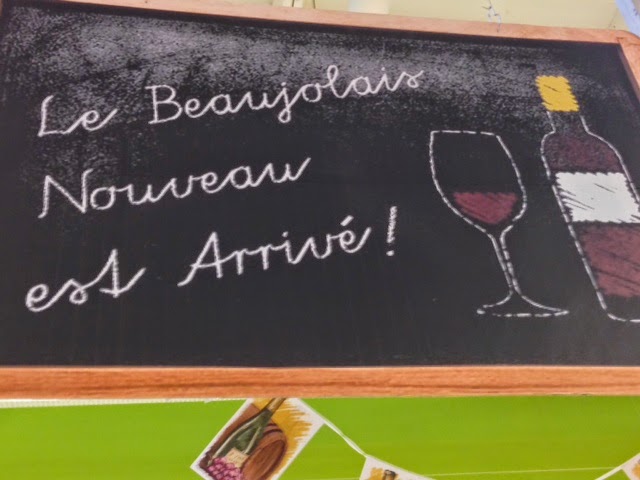 Every year on the third Thursday of November is an event almost as important to the French as Bastille Day. It is when the first bottles of that summers Beaujolais arrives in shops, markets and restaurants. In the town of Beaujeu there is a big festival and a dramatic midnight countdown to the tapping of the first barrel at 12.01am.
The wine takes its name from the historical
Province of Beaujolais
, a
wine
producing region, located north of
Lyon
, and covers parts of the north of the
Rhône
département
of the
Rhône-Alpes
region and southern areas of the
Saône-et-Loire
département
of
Burgundy
. It is fermented from the thin skinned Gamay grape first introduced by the Romans. To receive its
Appellation d'Origine Contrôlée (AOC)
the grapes must be hand-picked; it is typically only ten weeks from vine to sale.
 Ideally served lightly chilled, this light bodied fruity wine is a perfect aperitif or party wine and has now gained worldwide popularity.
I took the opportunity for a quick sojourn to Boulogne to meet with Madame Gavois, the wine buyer for Auchan. There were around ten wines on offer; she recommended I talk with her colleague who was doing the wine tasting in another part of the store. Being professional, I sampled them all, none of that spitting out business mind. My favourite he let me try four times "pas problem, Monsieur", I liked him and his flushed cheeks instantly. From those I chose six different bottles to buy, but the stand for me out was Chez  l'Ami Claudius, Beaujolais Nouveau 2014.
Benoît Thorin, the descendent of a family that first came to the region in the 14th century, founded the maison Thorin in 1843. Today, it is located at the gates of Beaujeu, the historic capital of Beaujolais. The maison Thorin works in close collaboration with over 450 growers, carefully selecting and constantly supervising the production of the smaller growers.
While not everyone's favoured tipple, and often scorned by so-called "wine experts", this ruby red liquid is like a taste of bottled summer. Light, fruity and crisp with silky tannins make this a perfect quaffing wine, best consumed young as you can tell from the half-drunk bottle above.
Maison Thorin
Le Pont des Samsons
69430 Quincié-en-Beaujolais
Rhône  Rhone-Alpes,
France
Tel : 0033 474690910
Available at Auchan supermarkets in France