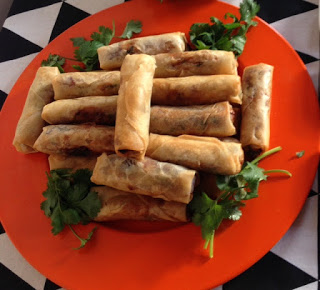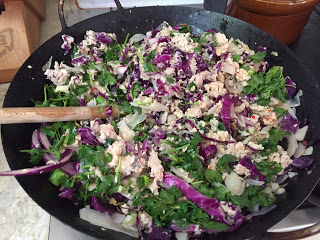 Whenever I'm a fortunate guest at my friend's bijou pad in the hood of Harlesden, I know a ton of work has gone into it. The dining room is always decked out in flowers, an exotic array of dishes and the wine flows.
Amongst the dishes, Susan had gone to the trouble of making forty spring rolls for five of us – over catering as usual and I can only say that I managed to scoff six of them, they were so delicious.
So here is her wonderful recipe.
TIP If you make forty at a time you can freeze half for another occasion. Serve them as canapes; cut them in half with a sharp knife, arrange on a plate and place a dipping bowl in the middle. You can also use pork instead of chicken. I was surprised that you cook everything together but go with it. It works, believe you me.
TIP I always use Kikkoman's soy sauce.
Serves 40
I packet of 40 frozen spring roll wrappers, defrosted
500 grams of minced chicken
Half a small cabbage
1 medium potato
2 handfuls of bean shoots
1 bunch of spring onions
1 bunch of coriander, finely chopped
2 tbs Kikkoman's soy sauce
I bulb of garlic (about 10 cloves)
2 teaspoons of crushed fresh red chillies
1 piece of fresh ginger (about 5-7 centimetres long), grated
Fiery hot Thai dipping sauce (see recipe)
Vegetable oil for frying
Heat a tbs of oil in a large wok and add the mince, finely chopped cabbage, coriander, spring onions, grated potato and ginger, bean shoots, the crushed garlic cloves and chilies.
Fry on a low heat until everything is cooked through and then add the soy sauce. Let this mixture cool. Separate the spring rolls and lay on a surface and when you look at them they will be arranged in a diamond shape.
Place a heaped tsp of the mixture at the bottom of the diamond. Roll the wrapper up tightly and then tuck in the ends. Carry on rolling so you end up with cylinder shaped spring rolls.
Heat the oil in a deep frying pan and immerse the rolls into the fat. Fry till golden all over. Remove with tongs and place onto super absorbent kitchen towels (Ora are the best) and then pile onto a plate.
If you wish, you can wrap a roll in some lettuce, add some coriander and then give the whole thing a thorough dunking into the hot dip.