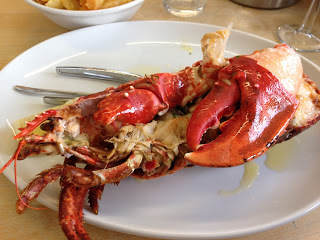 The sweet, meaty flesh of a lobster, (freshly caught off the island of Skyros in Greece happens to be my favourite memory), sipping wine from a terribly elegant glass whilst basking in a spectacular sunset. If only I could bottle up that scenario.
Anyway, what's my point? Well, it's this. I've found, of late, that food in many restaurants is mucked about with, given ridiculous names that last a paragraph and I end up not knowing what the hell is going into my gob.
What on earth is wrong with allowing the quality of a beautiful piece of meat, fish or vegetable to stand on its own, partnered only with one or two brilliant companions.
Take the mighty lobster for instance. All it needs is a drizzle of clarified butter (see recipe below) and the juice of 1/2 an organic lemon (preferably from Amalfi).  I wouldn't allow it be smothered in a heavy cloaking of Thermidor for all the tea in China.
If it's cold lobster that you're after, nothing beats homemade mayo or aioli (both recipes are on the blog). A vibrant green salad and a bowl of fat, golden chips makes for one hell of a satisfied diner.
Clarified butter is just butter that has had all the milk solids removed. Apart from the superior taste, you can heat clarified butter to higher temperatures before burning.
Simply heat the butter in a pan and when melted, take the white scum off the surface. The clear butter which lies on top of the milky residue can just be spooned out.
A bib, a best friend and a bottle of Greco di Tufo is to be highly recommended.