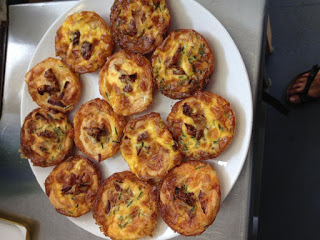 These rather scrumptious morsels are easy to put together, especially when you buy the short crust pastry (purists look away). They are great as finger food at parties or for a lunch served with a vibrant mixed salad.
Make double and freeze the rest. Defrost overnight
Serves 3
1 ready rolled sheet of short crust pastry.
1/2 a red onion, diced
50gr feta cheese
2 tbs of grated Parmesan
4 sun dried tomatoes, finely sliced
2 large egg yolks
300ml double cream
a little olive oil for frying
handful of snipped chives
black pepper
Pre-heat the oven to 180oC
Cut out 12 circles of pastry and place them in a shallow muffin tin and bake for 6 minutes. Remove but keep the oven on.
Fry the diced onion in a little oil till translucent. Divide amongst the twelve pastry circles, add the tomatoes, feta cheese and the chives. Mix together the eggs, Parmesan and cream. Pour over the pastries. Cook for a further six minutes. Turn the oven off and let them set for a further two minutes.
Divide between three plates and dust with black pepper.