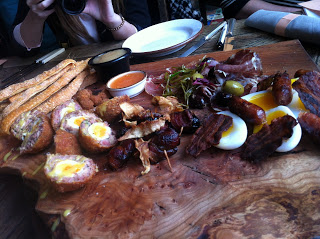 Going to the New Forest as a child was an
almost magical experience. The trees seemed huge next to my tiny frame and the
forest dense and a little foreboding.  What
I recall most is the overwhelming musty odour of the trees, undergrowth and rotting
leaves on the damp earth. All quite alien to a city boy such as myself; but I
grew up watching episodes of Jack Hackgreaves' Out of Town as a child so the
forest always held a fascination for me. Jack's passion and enthusiasm for the
traditional ways of country life were always a little infectious and taught me
to love and respect the beauty of the New Forest and country life.
When we pulled out of Waterloo it was
the melancholy theme music of Hargreaves' show, Francisco
Tárrega's Recuerdos de la Alhambra that was playing in my mind. Having grown up in Hampshire it was great to
have to opportunity to go back there after so many years. Many years ago my parents
owned a restaurant and B&B near Clanfield, a village just south of
Petersfield on the old A3. From childhood memory I was well aware of the
wonderful produce available in rural Hampshire as many an early morning, before
sunrise, I would make those twilight trips with my father to the long gone farmers'
cooperative, Hampshire Growers, near Wickham where he would buy the fresh
vegetables for the day's menu. I especially liked the delectable peppery watercress
and crisp lettuce plucked straight from the ground.
On disembarking the train I was hit by
those familiar countryside odours – it was fabulous to inhale that fresh air
once again.  Winding our way from
Brockenhurst station though the narrow lanes of the New Forest I wondered what
had happened to the gypsies that had once lived in forest for over 300 years.
They would sometimes visit my parents' café with their caravans and hairy
footed shire horses to sharpen all the knives; I believe they were forcibly
settled in the 1950s and 60s.
We arrived at a small opening in the bare
winter trees and drove up a long gravel driveway through to the front of a
delightful old Manor house that is now the home of The Pig. It was once
"Whitley Ridge" the home of the Queen Mother's Uncle, Malcolm Bowes Lyon. I was
hoping for some whiff of royal scandal but, sadly, he appears have been a thoroughly
decent chap and pillar of his local community.
We were greeted at the door by with a
glass of lovely, ice cold English sparkling wine, Danebury, Cossack 2005 (£39.00).
Wherever possible, it is The Pig's policy to source all their produce within 25
miles from local farmers and producers and this divine beverage was no
exception. Cossack
sparkling wines are made from a blend of the Auxerrois Blanc (Auxerrois Blanc is
a cross between Gouais blanc and Pinot noir, the same ancestry as Chardonnay)
and Rulander grapes (A German synonym for Pinot Gris). It is made using the
traditional bottle fermentation method and aged for at least 5 years on its
lees. According to their own tasting notes "A very fine and delicate mousse,
with notes of brioche and a refreshing citrus finish. A classically structured
wine that lasts and lasts on the palate." Who am I to disagree?
http://www.danebury.com/cossack
We were briefly shown around the shabby
chic style restaurant and lounge rooms, complete with creaking wooden floors
and roaring open fires, and then out to the wonderful kitchen garden in the
company of deputy chef Andy Wright and the kitchen gardener Ollie Hutson, the son of
the owners, Robin and Judy Hutson. Head chef, James Golding was away, but Andy
proved to be equally as passionate about his food. The garden is the true
strength of the place; fresh vegetables from
earth to table in less than half an hour. Ollie grows seasonal foods raspberry,
blueberry, and goji berry for deserts, sauces and Jus. A massive variety of vegetables
including rocket, kale (red and curly), mizuna, broccolis, spinach, chards, sprouts,
celery and cabbages. A full range of fresh herbs including thyme, lovage, tarragon,
parsley and so on along with culinary staples such as garlic, fresh Egyptian
walking onions and leeks. They source their seeds from The Real Seed Catalogue
http://www.realseeds.co.uk/
and what they can't grow themselves comes from local organic farmers
and suppliers such as Ian Nelson's Sunnyfields Farm
http://www.sunnyfields.co.uk/
I lingered long with Ollie, long after
all the others had returned inside, bombarding him with questions and tasting
the varieties of salad leaves and herbs that he would clip from the growing
plants. Lastly, he took me down to the lower field that houses egg producing
chickens and quails along with a smoker for producing smoked salmon and haddock
served in the restaurant. Duck eggs and additional free range chicken eggs
being supplied by Fluffett Farm.
http://fluffettsfarm.co.uk/
The Pig also employs a forager, Garry
Eveleigh, to source seasonal foods from the forest including crab apples, wild
salads, nettles, nuts, fruits and berries chanterel and hedgehog mushrooms. The
chef whips then up into a fabulous and daily changing menu.
http://www.garryeveleigh.com/
I once foraged in the mountains above Begur, in Catalonia, for fresh
wild asparagus which I cooked up for breakfast with scrambled eggs. There is something
deeply satisfying about it; maybe it appeals to our atavistic hunter gatherer
past.
Pulling
myself away from the Garden, I hurry in and am the last one to sit down at the
large bare wooden table. We are presented with a choice of red and white wines,
of course, I had to try both, I take this job very seriously you know!  The red was Prieto Picudo – Dominio Dostares,
Castilla y Leon 2010 (£31.00) a deep full flavoured Spanish wine lush, fruity
and smooth.
http://www.dominiodostares.com/web/eng/
the selected white was
Furmint/Harslevelu/Muscat Dry Tokaji, Chateau de Dereszla, Hungary 2011
(£30.00). A French owned winery in the heart of Hungary's wine region.
Delicious, crisp and lemony, another wonderful wine.
http://www.dereszla.com/
So
impressed with the selection; I immediately demanded the wine lists and
summoned the sommelier to be bought to me. What an incredible and delightful
selection of wines are on offer! The Pig has an impressive list of almost 200
wines to suit every taste and budget. Any restaurant that has fine Sancerre and
the superb Greco Di Tufo, Feudi di San Gregorio, Campania, Italy 2011 (£42.00)
is going to be fabulous in my book.
http://www.feudi.it/
The sommelier, Adrien
Espinasse, French, of course, was yet another great asset to The Pig's
enthusiastic and passionate staff. I could have talked with him all afternoon,
his ebullient nature and incredible depth of knowledge was like poetry to my
ears. We were also bought a variety of delicious cocktails to try, all made
with fresh fruits, many flavoured with crushed mint from the kitchen garden and,
although not sampled this time, the drinks menu also
included beers and ciders are also from local suppliers in Hampshire, Dorset
and Somerset.
The
first course was the pork based "Piggy Bites", served on a large wooden
platter, including crackling with crab apple sauce; quail scotch eggs, crispy bacon,
and karma ham with Dorset olives mini-chorizo, crispy lardons with chilli sauce
all served with tasty home baked bread. The crackling was fabulously crunchy, I
must say I finished the lot, and, I shamefully admit, double dipped the apple
sauce as it was so damn good.
Choosing
the main course was a tough one, it all looked so enticing.  I was severely tempted by the seafood. Having lived in Portsmouth, I knew all about the wonderful seafood from
the Solent and along the south coast. I use to fish for fresh mackerel, sea bass,
pout and bream which my mum would turn into either roast, fry or turn into herby
fish cakes. At weekends we would purchase fish, fresh from the nights catch at
Old Portsmouth's Camber Docks. The Pig sources most of its seafood from local
suppliers in Portland and Poole along with clams, mussels, cockles and sea
weeds, such as rich green samphire, harvested by their resident forager. The
menu had scallops, smoked Mackerel, Turbot and Pollack, however as it's called
"The Pig" I opted for The Pig's Char-Grilled Romsey Farm Pork Chop Served with
Crab Apple Mash, Curly Kale & Mustard Sauce (£16.00) with a side of Steamed
Garden Greens (£3.50).
The pork was stunning and perfectly
tender, and served with fat on, as it damn well should be! The fat is full of
flavour and, if you have a well-balanced diet, what harm can a little fat do?
The steamed vegetables were probably growing in the garden 10 minutes before
they hit the plate and, for me, they were the highlight, slightly crisp and
full of flavour. The mash was a weeny bit disappointing. A little bland and too
salty for me, with all their produce growing from the garden, the addition of a
little garlic or chopped fresh parsley would have improved it. I always mix
mine with around 25% cassava to add some additional flavour and a natural
creamy texture, but that I'll save for another article.
I did have a severe case of menu envy
when I saw my fellow journalist, sitting opposite from me, tucking into the
Hand Dived Lyme Bay Scallops and Streaky Bacon served with Cauliflower Puree,
Atlantic Prawns and Crispy Purselane (£19.50). After some tough negotiation, I
swapped a generous chunky piece of pork, fat on, for half a scallop, it was a
tad mean, but the best deal I could get! The scallop was seared to perfection
and the puree a superb complement. If you are feeling suitably soporific after
eating you can stay in one of the 26 luxury bedrooms in the main house or in
one of the out buildings. Prices range from £125 for the smallest room up to
£220 for one of the family rooms, ideal for an indulgent getaway.
For coffee and desert we were taken to
The Pig's sister café the Pig in the Wall, a boutique bed and breakfast hotel
and café nestling in the ancient wall that surrounds Southampton's city centre.
The charming waitress bought us a tempting spread of homemade cakery and a creamy
cinnamon cappuccino. This cosy café, with supremely comfy leather armchairs and
a roaring fire, also serves a selection of wines, local beers and homemade savoury
snacks. Light lunches of soups, salmon, sausage rolls, quiche salads, and local
cheeses are all available mostly for under £10.00. Rooms are also available and
they run a free evening shuttle service to The Pig for evening meals.
Feeling thoroughly fed and watered, I slept like a contented
pig, though hopefully not snoring like one, most of the way back to London in
the evening twilight. On arrival, I hurried from Waterloo to my friend's
gallery opening in Cecil Court in the heart of London's West End. I noticed a
distinct aroma that I just couldn't place. Then it clicked, there was mud on my
shoes, I'd been in the country, and the odour on my clothes was from the roaring
fire and my belly was still full. I think I'll be going back.
The Pig
Beaulieu Road
Brockenhurst
Hants.
SO42 7QL
The Pig in the Wall, Southampton
@The_Pig_Hotel