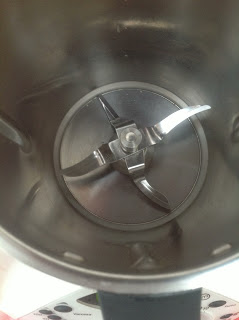 Actually, I think it's rather insulting to call the Thermomix a 'gadget', as I discovered when the charming Felicity Raines from the company that make this phenomenal piece of kit came into the cafe to give me a demonstration.
You ought to know that the vast majority of top flight chefs in London possess this miracle machine and I was eager to learn why. In the next hour I did just that. I was totally blown away by its functions and capabilities. No wonder that sales in many European countries have hit the roof.
It's not that big. It holds a two litre jug and inside it, the blades are a feat of food engineering. Might have known it was German. The four blades are at different angles and heights and there is a reverse action so the blades stir rather than chop. Genius in its simplicity, but then all the best ideas are.
Felicity then proceeded to show us just how easy is it was to do the following:-
roast and grind spices
make icing sugar from castor sugar
grate parmesan
make mayonnaise
make hollondaise
make pea puree
make sorbet
make creme patissiere
make bread dough
make pesto
make hummus
The list is endless. For me, however, one of the most attractive features of this machine is the way the food is processed. The pea puree was as light as a feather -if I had been presented with this in a restaurant I would have sworn that the puree had been sieved at least twice.
It's not rocket science to know why all the big guns in Michelin starred restaurants have invested in this machine.
The Thermomix is not available from any department store as it comes with a two hour demonstration to ensure a thorough understanding of how the machine works. At over eight hundred pounds it's not what you'd call a casual purchase, but when I tot up the cost of various appliances in my kitchen, it's not far off.
Everyone needs a fairy now and again to make their wishes come true. If indeed there was a kitchen fairy, she'd only need to grant one wish across the land.
http://www.ukthermomix.com/