The cool interior of The Salisbury Gastro Pub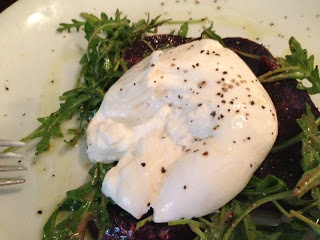 The famous Burata
Having had a good old mooch at the Queen's Park Farmer's market, the usual lunchtime pangs guided me and my pal to The Salusbury, a gastro pub and a very handsome looking wine and deli shop next door.
I recently found out that several celebrity food critics have had very high praise for this good looking eatery and we were about to find out why.
I've already said that the word gastro makes me feel I need a loan before eating in one. A cursory glance at the menu certainly did nothing to disabuse me of that idea. All thoughts were dispelled, however, when I spotted Burrata on the menu, a cheese from Puglia which is like a cross between a Mozzarella and double cream. It was served on a bed of roasted beetroot, perfect to counteract the creaminess of the cheese. I have only ever seen Burrata on the menu at one other restaurant, the quite sublime 'Il Cibo' in Holland Park.
My friend opted for the assorted meat platter which came with pickled vegetables and some crispy Italian flat bread.
Both dishes were just totally lush, as my brother would say. The crunch of the very lightly pickled vegetables against the saltiness and density of the various Italian cured meats was just spot on. As for the Burrata, it melted effortlessly on my greedy tongue and slipped down effortlessly with the sweet beetroot. Heaven's gotta have this on the menu.
One glass of house wine each, a bottle of water and the food came to a pretty painful £42 pounds, but when it's this good, I'm prepared to eat gruel for a week.