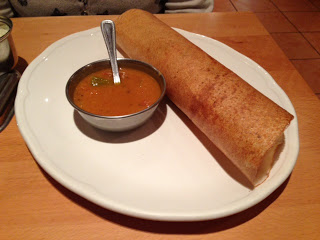 Masala Dosa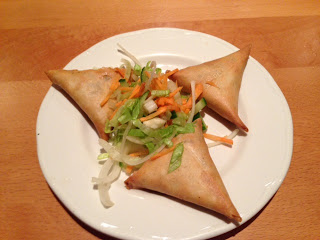 Vegetable samosas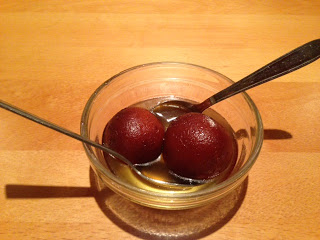 Gulab Jamun
Watford High Street and its environs are now  rammed with back to back chain restaurants and yesterday being a bank holiday, there were queues a mile long outside Carluccios, Wagamamas etc.  Depressing. Luckily I was with my sister after having had the usual superior massage at the Evolve salon and she steered me away from the hoards in the direction of Sri Rathiga, a modern Southern Indian restaurant on Merton Road.
My brother in law is Anglo Indian, his mother my Indian cookery teacher and so when they recommend an Indian restaurant, you just know it's going to be something damn good.
I would officially like to climb onto a roof and shout about this place (with loudhailer in hand) till all the locals take note.
As it was quiet I took advantage of asking as many questions to our charming and gentle waiter Sam who patiently gave me the recipes or the ingredients for all our dishes.
This is an authentic experience and everything is made from scratch. You can just tell from the appearance and the taste of the fare on offer.
My sister Anna  and I just wanted a couple of snacks and so she had a masala dosa which came with samba and fiery hot tomato chili and coconut chutneys. Talk about superior. For those of you who haven't tried this dish, a dosa is a wafer thin pancake made with ground rice, stuffed with potato and served with a tamarind based sauce or samba. It's quite delicious and I couldn't believe the paltry £2.25 charged for this. I had the vegetable samosas which were beautifully crisp and contained a myriad of very finely chopped vegetables that just melted in my mouth. A big dunk into the tomato and chili chutney just gave it a fantastic zing. When you eat food like this, you realise how many bad Indian restaurants there are out there, serving oily curries that impart fiery heat but never the true flavours of India.
Anna lives for sweet things, so every chance she gets to eat Gulab Jamun, small dumplings bathed in a lightly scented syrup, she jumps at it. Again, the difference between the real deal and the 'death by sugar' version in many Indian shops and restaurants was humongous.
If there is any justice in this world, the good folk of Watford will embrace and patronise this wonderful, authentic and unbelievably cheap restaurant. You can take your formulaic chains and stuff em where the sun don't shine. Rathiga is what food is all about. It's made from the heart with authentic recipes and served by gentle souls who will make you grateful for the exotic and fragrant food that embraces all that is great and good about Indian cuisine.www.rathiga.com