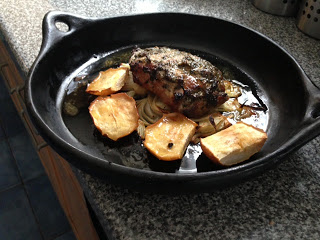 Butterflying a boneless pork loin isn't that hard, but the easiest way to avoid potential stress is to ask your butcher to do it for you. You know it makes sense.
TIP Marinate your pork overnight in the fridge.
Serves 2
300 gr butterfly pork
1 tbs runny honey
3 sprigs rosemary, chopped
1 tsp English mustard
3 tbs olive oil
sea salt
1 sweet apple
1 onion, sliced
Preheat the oven to 170oC
Mix together the rosemary, mustard, honey,  1 tbs of the olive oil and salt. Make small incisions in the pork and rub in the marinade. Leave overnight to infuse.
In a heat proof serving dish, place the onions in the middle, top with the pork, surround with sliced apple and drizzle 2 tbs olive oil onto the apples.
Bake for an hour.  If you want a gravy, remove the pork and the apples and add some home made chicken stock to the dish. Scrape up the juices and place the dish on the stove. Heat and reduce by at least a third. Finish with a tbs of sour cream. Nothing else but a creamy mountain of garlic mash will do.