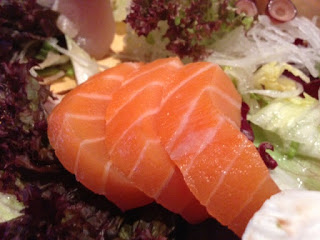 The Exquisite Sashimi Plate
I've been reliably told that there's a large Japanese community in Cricklewood, not far from 'Eat Tokyo' in Golder's Green. As I stepped into this unassuming looking restaurant, I noticed the Japanese invasion instantly.
Is there a better recommendation than this I thought? Surely not.
It was around seven o'clock and the joint was rammed. Even more reason to feel on a culinary high.Another plus in my book. A sushi bar. Always a damned good sign.
To the menu then. Each range of dishes was accompanied by a photo so it was a thick book of offerings. I headed straight to the sashimi page and chose the seven times three pieces of raw fish to share with my good pal and fellow writer for the MBW blog,  Michael. One of his favourite dishes is eel –  he chose the unagi, the picture of which was just stunning. Both of us also love gyoza, so we opted for a portion of vegetable dumplings. I'm not a lover of Sake – I've given it a damned good go but it has sadly defeated me. I am, however,  very fond of Japanese lager so we ordered a couple of Asahi beers.
The visually stunning sashimi arrived on a semi circular lacquered plate – you could tell it was first class – it was a dish of exquisite beauty and the reassuring silence that ensued was testament to a mighty fine plate of fish. Rather strangely we had to ask for the ginger but this was distinctly superior to the commercial and fake pink slithers you often get in inferior places. It simply sang with zing. Oh joy, oh joy.
The eel and the gyoza arrived whilst we were eating the sashimi – that is my only gripe. You feel as though you are being rushed which I resent in no small way. However, when Michael's face gave me the look that 'The Galloping Gourmet' used to make on the telly a bazillion years ago, I just had to smile. Big time. I love seeing people enjoy their food. I have to confess that I was an eel virgin, so was eager to see what the fuss was about. I had no idea how soft and delicate it was. It had a layer of  very strong, sweet,  terriyaki like sauce glazed on top and I found this just a little too sweet for my liking, but the actual fish was extraordinarily good.
As for the gyoza, the best skins I have ever eaten encased a delicate vegetable medley which were happily dunked into a gorgeous dipping sauce. I especially liked the way they were fried on one side and left steamed on the other. Lush.
As for the service, like all places that are constantly full, the staff feel the pressure. It was a bit slow, (apart from when we the food came at the same time!) but this was hardly a heinous crime when you're having such a good time of it.
Someone had told me that Eat Tokyo was cheap. I beg to differ. Three dishes and a couple of beers came to just over £55. My response? I'd do it again in a heartbeat. Can't say fairer than that.
Eat Tokyo
14 North End Road
Golders Green
London
NW11 7PH
020 8209 0079
http://www.eattokyo.co.uk/golders-green