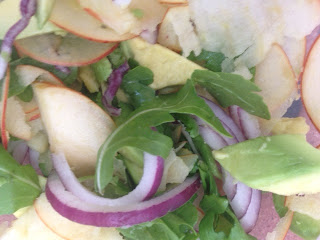 This has got to be one of the most refreshing salads to savour. It's light, tangy and very high in nutrition. It's a no carb piece of heaven for everyone to enjoy as part of a Japanese meal or as a light starter.
Serves 4
1 bag of rocket
1 sweet apple
1 avocado
1 red onion
1 tsp grated ginger
6 tbs rice vinegar
1tbs lime juice
1 flat tsp white sugar
sea salt
If you have a food processor, use the disc that slices vegetables or fruit wafer thin.
Slice the apple. Chop your avocado up roughly, finely slice the red onion. Place the rocket leaves in a wide, shallow bowl.
Scatter over the red onion, avocado and apple slices. Mix together the ginger, lime, vinegar, salt and sugar. Pour over the salad and tuck in. Wicked.