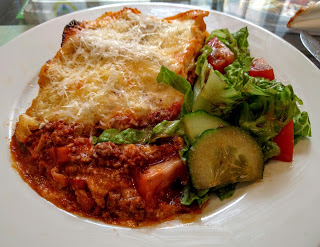 My mate Billy at uni had an Italian mum whose Lasagna was legendary. She passed on the recipe to me and I am eternally grateful to her.
Serves 6 – 8
1 kilo of best quality mince
1quantity of bechamel (see recipe)
50 gr grated cheddar
50 gr grated  parmesan
8 chicken livers
12 sheets of lasagne
2 tins of tomatoes
4tbs tomato puree
1 large onion
1 large carrot
3 sticks of celery
4 cloves of garlic
1 glass of red wine
500ml beef stock
bay leaf
black pepper
a little oil for frying
knob of butter
Finely dice the onion, carrot and celery. In a large cooking pot heat a couple of tablespoons of oil and fry the vegetables for ten minutes on a medium heat. Add the chopped garlic and fry for another minute before adding the beef. Cook for ten minutes. Meanwhile, in a separate pan, heat a little butter and when foaming, fry the livers until cooked but a little pink inside. Turn off the heat and cool. Pass through a sieve. Stir thoroughly into the meat mixture. Now pour in the wine, tomatoes, puree, stock and bay leaf. Simmer for an hour and a half with the lid on, stirring occasionally. Take off the lid and cook for a further half hour. Heat the oven to 180oC.
Make the bechamel sauce and melt in the cheddar. In a deep oven proof dish, ladle in a third of the meat, then a third of the sauce. Cover with lasagne sheets. Repeat the process
Finish with a final layer of sauce and sprinkle over the parmesan. Cook uncovered for half an hour. Serve with a Chianti Classico.
Photo by David Wrigley